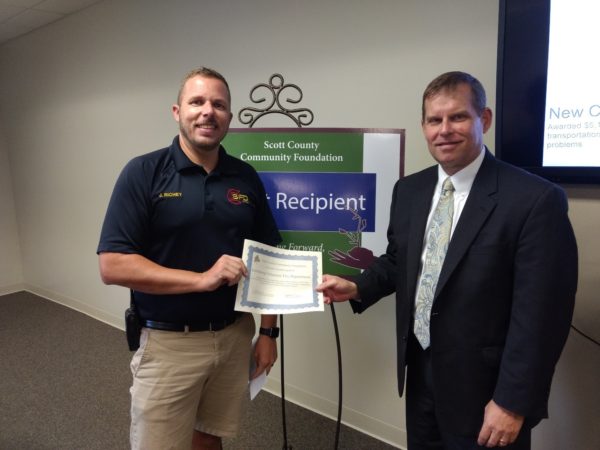 Scottsburg Fire Chief James Richey is shown with Kevin Collins.
The Scott County Community Foundation (SCCF) has awarded $129,000 in grants to several local agencies during its 2018 Community Grants Program, announced grants committee chairperson Nancy Barr. The agencies were honored at a grants breakfast.
The organizations, the purpose of the request and amount awarded are:
CASA of Scott County: recruiter/trainer and clerical support staff for volunteers of abused and neglected children, and computers/software, $15,000;
Centerstone: Mobile play therapy kits, $3,500;
Child and Family Advocates: provide support groups to children of divorced parents, $5,000;
Community Action of Southern Indiana: Life Literacy Academy, $2,924;
Gleaners Food Bank: provide fresh produce for senior mobile food pantry, $5,000;
Humane Society of Scott County: building expenses, $8,000;
Lexington Good Faith Preschool: provide free preschool for children in Lexington Township, $3,000;
New Creation Addiction Ministries: provide transportation and study guides, $5,075;
Preservation Alliance, Inc.: operating expenses for Scott County Heritage Center and Museum, $2,250;
School Smiles Foundation: provide dental services to children in need at Austin Elementary School, $1,500;
Scott County Fair Association: provide electrical upgrades at fairgrounds, $5,000;
Scott County Family YMCA: after-school program at Scott County School District 2, $7,500;
Scott County Partnership: AmeriCorps match for Clearinghouse, $4,033;
Scott County Partnership: Conquer the CHAOS, $3,000;
Scottsburg Band Parent Association: Purchase flugelhorn, $2,450;
Scottsburg Volunteer Fire Department: Purchase fitness equipment, $2,395;
Social Health Association of Indiana: Provide health and social education to Austin Elementary and Middle schools, $2,500;
United Way of Scott County: provide free books for children from birth through age five through the Dolly Parton Imagination Library, $2,500.
The Donald R. Collins Sr. Family Fund provided funding for the grant to the Scottsburg Volunteer Fire Department. The L.L. and Juanita Lowry Unrestricted Fund assisted with funding for the grant to New Creation Addiction Ministries. Through the Collins and Lowry families? memberships in the Forever Tree Society, earnings from their family funds are able to support specific charitable projects in the community.
The grants were also made possible from the Borden Family Community Granting Fund, Laurence and Myrtle Bridge Memorial Fund, Terry Fewell Memorial Unrestricted Fund, Addie Mae Graham Memorial Fund, Lauren Graham Memorial Fund, Dale and Rosemarie Hobbs Fund, Hazel and Lowell Lowry Sr. Memorial Fund, John and Janice Martin Unrestricted Fund, Neighbors Helping Neighbors Fund, Dr. William and Diann Scott Unrestricted Fund, Dan and Mary Lou Slattery Fund, Wesbanco Fund, Scott County Immediate Response Fund, Scott County Memorial Fund and Community Enrichment Fund.
The Board of Directors also awarded $46,053 from the Scott County CAPE
Educational Endowment Fund to the Scott County Partnership to continue educational initiatives. These include LifeSkills and guidance activities at Austin and Scottsburg middle schools, coordinate youth summer feeding program in Austin, coordinate other educational programs including Reality Stores, Scott County Attendance Review Board, Youth/education Committee, Career Clusters, and more.
?Being involved with my community through the Scott County Community Foundation is such a rewarding experience,? shared Barr. ?Many of the needs within the community are being met by so many wonderfully caring people, who fund the Community Grants Program.?
?If you are passionate about your community, have a particular area of interest, or want to memorialize a loved one, I encourage you to contact the Foundation and become a donor. There is no better way to leave that legacy,? said Barr.
For more information on the Scott County Community Foundation, call 752-2057, email info@www.scottcountyfoundation.org or stop in the office at 60 N. Main St., Scottsburg. You may also visit the website to view pictures and information at www.www.scottcountyfoundation.org or www.facebook.com/ScottCountyCommunityFoundation.