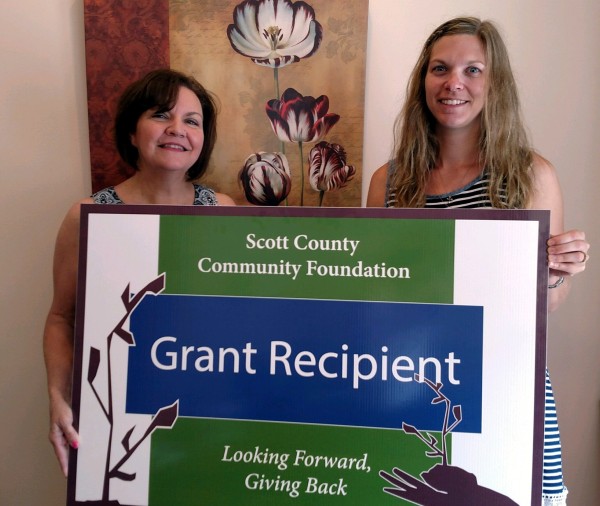 Shown are United Way Executive Director Nancy Riley and Community Foundation Executive Director Jaime Toppe. United Way received $5,000 for the Dolly Parton Imagination Library.?
The Scott County Community Foundation (SCCF) has awarded $130,000 in grants to several local agencies during its 2016 Community Grants Program, announced grants committee chairperson Hank Jentzen.
The organizations, the amount awarded and the purpose of the request are:
Austin Learning Center, $13,691.79 for a staff position for after-school and summer program;
CASA of Scott County, $10,000 for a staff position for recruitment and support of volunteers to advocate for abused and neglected children;
Englishton Park, $5,000 for Scott County children to attend a summer camp remediation program;
Gleaners Food Bank, $5,000 to provide food for children every weekend during the school year through the BackSacks program;
Lexington Good Faith Preschool, $5,000 to provide free preschool for children in Lexington Township;
Lincoln Heritage Council/Boy Scouts of America, $5,000 for Scott County scouting expenses;
Ohio Valley Opportunities, $3,000 for furniture and equipment for classrooms and playground;
Scott County Family YMCA, $7,5000 to provide after-school care at Vienna-Finley;
Scott County Genealogical Society, $1,621 to purchase a computer, scanner and other equipment;
Scott County Partnership, $5,000 to provide AmeriCorps workers for the Clearinghouse;
Scott County Partnership, $6,000 for the Circles poverty campaign;
Scottsburg Band Parent Association, $10,000 to purchase percussion instruments;
Totes for Tots and Teens, $3,000 to provide backpacks and school supplies for kids in foster care;
United Way of Scott County, $5,000 to provide free books for children from birth until age five through the Dolly Parton Imagination Library program.
The Donald R. Collins Sr. Family Fund was able to assist with funding for the grants to the Scott County Genealogical Society and Totes for Tots and Teens. The L.L. and Juanita Lowry Unrestricted Fund assisted with funding for the grant to the Scott County Partnership for Circles. Through the Collins and Lowry families? memberships in the Forever Tree Society, earnings from their family funds are able to support specific charitable projects in the community.
The Board of Directors also awarded $45,111 from the Scott County CAPE?Educational Endowment Fund to the Scott County Partnership to continue educational initiatives. These include LifeSkills and guidance activities at Austin and Scottsburg middle schools, coordinate youth summer feeding program in Austin, coordinate other educational programs including Reality Stores, Scott County Attendance Review Board, Youth/education Committee, Career Clusters, and more.
The grants were also made possible from the Terry Fewell Memorial Unrestricted Fund, Addie Mae Graham Memorial Fund, Lauren Graham Memorial Fund, Hazel and Lowell Lowry Sr. Memorial Fund, John and Janice Martin Unrestricted Fund, Dr. William and Diann Scott Unrestricted Fund, Scott County Immediate Response Fund, Scott County Memorial Fund and the Community Enrichment Fund.
?The members of the Grants Committee had another busy and challenging year with more money being requested than available,? said Jentzen. ?Members worked many hours reviewing all applications and were successful distributing money to as many applicants as possible.?
?This is my last year as chairman on the Grants Committee and as a board member for the Scott County Community Foundation,? shared Jentzen. ?I want to thank all members for their hard work and dedication to ensure the money entrusted to the SCCF has been invested where it will be most beneficial in the community.?