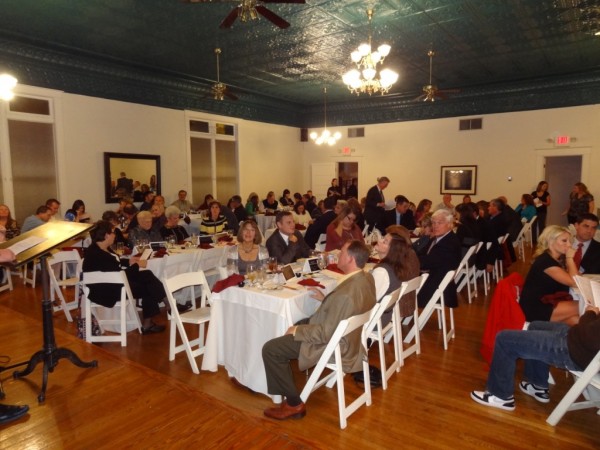 The? yearlong celebration of our 15-year anniversary culminated with our fourth annual ?Thanks4Giving? fall dinner held at Jeeves & Co. on Nov. 15. This event honors volunteers, donors and nonprofit organizations in the community. Not only was the gathering held during National Community Foundation Week, but also on National Philanthropy Day. The Community Foundation board of directors and staff expressed gratitude to everyone who gives their time, talent and treasure for the betterment of the community.
An update on the Community Foundation?s activities for the year was given, and ended with two major announcements. An endowment-building campaign, ?15 Years. $15,000. 15 Days.? matched gifts to endowment funds with a 50 percent match up to $5,000. The goal was surpassed within days of the start of the campaign on Nov. 1, and a total of $31,610 was raised in 15 days.
We also announced a partnership with United Way of Scott County to bring the Dolly Parton Imagination Library to Scott County. This initiative will deliver a free book, every month, to a child from birth through age 5. Support from the community will be sought to sustain this program, with the intended result to increase early childhood literacy rates.
Guest speakers for the evening shared how they have been impacted by the Foundation in some way. Elle Lee, a kindergarten teacher at Lexington Elementary School, spoke about the improvement that she and fellow teacher Lindsey DePriest have seen in the students since the Lexington Good Faith Preschool has opened. The preschool has received grants from both the Scott County Youth Grantmaking Council (YGC) and the Community Foundation during the Community Grants Program. Russ Comer, a former board member, spoke about establishing a fund in memory of his father, Bob, and serving on the committee of the scholarship established in memory of his sister, Shelley Comer Akers. Evan Comer talked about how he has come full circle in his involvement with the Community Foundation: first, as a member of the YGC, then as a scholarship recipient, next as an intern to produce a promotional video, and finally as a committee member for the scholarship established in memory of his grandfather. Finally, Rod Wilson, a former client and current staff member and volunteer at the Scott County Clearinghouse, shared his inspirational story.
This dinner was made possible due to the generosity of many people and businesses, and the Foundation would like to express its gratitude. Keith Colbert, executive director of the Chamber of Commerce, served as emcee. Members of the Scott County Youth Grantmaking Council served as escorts to the guests. Ryan and Stacy Payne volunteered as auctioneers for the live auction.
Sponsors included: Blue & Co., Greater Scott County Chamber of Commerce, Dr. Lindsey Hardy, ILPEA Industries, Bob and Connie Kenninger, Morgan Foods, Multi-Color Corp., Saegesser Engineering, Scott County School District 2, Scott County State Bank, Scottsburg Building & Loan Association and United Way of Scott County.
Local donations for auction items were received from: AFLAC/Pat Bridge, Jeff and Lisa Conder, Lee Anne Hahn, Health Centered Chiropractic, Jeeves & Co., Morgan Foods, Old National Bank, Matt and Lynda Phillips, Scott County Family YMCA, Sky Sport Fitness, Sunshine House Health Food Store, Jon and Beth Turner and family.
Scott County Tobacco Prevention & Cessation Coalition won the door prize of $250 awarded to nonprofit organizations in attendance, and Bob and Connie Kenninger won $250 to be donated to the endowment fund of their choice as winners of the sponsor raffle. They chose to donate to the Kenninger Music Education Fund.
We appreciate everyone who helped celebrate 15 years of giving and serving in Scott County.