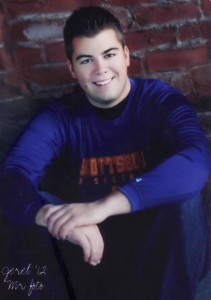 One Scott County student has been named recipient of a full-tuition, four-year scholarship as the Scott County Community Foundation 2012 Lilly Endowment Community Scholar.
Jerel Taylor of Scottsburg High School will receive full tuition to the Indiana college of his choice and a $900 yearly stipend for required books and equipment.
Jerel is the son of Cindy Taylor of Scottsburg. He is active on the Scott County Youth Grantmaking Council; Student Council, of which he is the Vice-President; is the President of his class; plays for his school?s golf team; is active on the boys and girls basketball teams as statistician, manager, announcer and camp volunteer; and plays alto saxophone for the Scottsburg Band of Warriors.
Jerel plans to attend Wabash College to major in physics and teacher education. He plans to continue his education at graduate school and eventually work for a nonprofit organization.
?This is a huge honor and blessing,? said Jerel. ?It?s going to make college a lot easier financially. I?m humbled to be chosen by the scholarship committee. I will use this to accomplish great things for not only myself, but the community.?
?Jerel Taylor is an excellent choice for this year?s Lilly Scholarship recipient,? said Scholarship Committee Chairperson Marsha Howser. ?Through his written application, essays, and interview he consistently demonstrated his leadership strengths both in school and in the community. I have no doubt that he will go on to accomplish great things and give back to our community in many ways in the future.?
Twenty-two students applied for the Lilly Endowment Community Scholarship. Students were judged based on financial consideration, community involvement, extra-curricular activities, work activities, academics and two essays. Five students advanced to the interview portion. After the scholarship committee narrowed the field to one nominee and two alternates, the finalists? names were submitted to Independent Colleges of Indiana Inc. (ICI) for the selection of the recipients.
ICI is a nonprofit corporation that represents 31 regionally accredited degree granting, nonprofit, private colleges and universities in the state.
The scholarships are the result of a statewide Lilly Endowment initiative to help Hoosier students reach higher levels of education. Indiana ranks among the lowest states in the percentage of residents over the age of 25 with a bachelor?s degree. There were 142 scholarships awarded statewide.