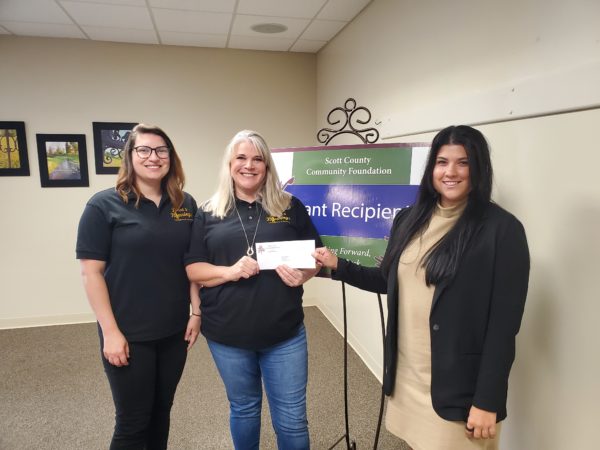 The Scott County Community Foundation (SCCF) has awarded over $161,000 in grants to several local agencies during its 2023 Community Grants Program, announced grants committee chairperson Ryan Payne. The agencies were formally honored at a grants breakfast.
The organizations, the purpose of the request and amount awarded are:
Align Southern Indiana: operations for the 5-county initiative which works to align resources, address needs and produce sustainable solutions, $2,500;
Bree's Blessings: operational support for their mission of providing gifts of art and music to children battling cancer, $6,000;
CASA of Scott County: operational support for advocates to support abused and neglected children, $36,136;
Cradle Pregnancy Resource Center: a new mentoring program, $2,500;
Gleaners Food Bank: provide school-based pantry program at Austin and Scottsburg high schools, $6,000;
Joyce Hamilton Oard Springs Community Center: preservation at the former one-room schoolhouse, $5,000;
LifeSmart Youth: provide human growth and development curriculum to Austin elementary and middle school students, $2,500;
New Creation Ministries: operational support for the agency, which provides assistance to individuals who are facing life-controlling situations, $6,000;
Preservation Alliance, Inc.: operational support for Scott County Heritage Center and Museum, and barn roof replacement, $2,000;
Scott County EMS: purchase blood analyzers for ambulances, $13,376;
Scott County Partnership: AmeriCorps match for Clearinghouse, $10,000;
Scott County Partnership: program match for Covering Kids and Families health insurance navigator, $10,000;
Scottsburg Band Parents Association: purchase portable generator for marching band, $1,000;
Still Water Individual and Family Therapy Services: therapy sessions for clients with financial need, $10,000;
The Donald R. Collins Sr. Family Fund provided funding for the grants to Preservation Alliance Inc. The Laurence and Myrtle Bridge Memorial Fund provided part of the funding for the grant to the Clearinghouse. The Dale and Rosemarie Hobbs Fund the funding for Cradle Pregnancy Resource Center. The L.L. and Juanita Lowry Unrestricted Fund provided funding to New Creation Ministries. Through these families' memberships in the Forever Tree Society, earnings from their family funds are able to support specific charitable projects in the community.
The grants were also made possible from the Borden Family Community Granting Fund, the Boswell Family Fund, Terry Fewell Memorial Unrestricted Fund, the Garten Foundation, Addie Mae Graham Memorial Fund, Lauren Graham Memorial Fund, Dustin and Derek Jones Memorial Fund, Hazel and Lowell Lowry Sr. Memorial Fund, John and Janice Martin Unrestricted Fund, Neighbors Helping Neighbors Fund, Dr. William and Diann Scott Unrestricted Fund, Dan and Mary Lou Slattery Fund, Wesbanco Fund, William Frasier Wetzel Memorial Fund, Yellow Rose of Nancy R. Laird Memorial Fund, Scott County Immediate Response Fund, Scott County Memorial Fund and Community Enrichment Fund.
The Board of Directors also awarded $48,396 from the Scott County CAPE Educational Endowment Fund to the Scott County Partnership to continue educational initiatives through a Youth Resources Coordinator. These include LifeSkills and guidance activities at Austin and Scottsburg elementary and middle schools, coordinate youth summer feeding program, coordinate other educational programs including Reality Stores, Career Clusters and fairs at both Austin and Scottsburg high schools.
"It's hard to believe another grants cycle has come and gone," said Payne. "This is my fifth year being on the grants committee and my third year being the chair and I am very blessed to be able to help our county in so many ways through our committee."
"The unfortunate part is the money that we have for grants only goes so far as we had a record number of requests at $322,000 from 23 requests," continued Payne. "We clearly had a lot less money than that to distribute so lots of difficult decisions had to be made. I would like to take a moment and thank all of our committee members for their hard work and dedication to this cause. If you have ever wanted to help out our community and didn't know what to do, please contact our Foundation office and learn how to be a donor today."
For more information on the Scott County Community Foundation, call 752-2057, email info@scottcountyfoundation.org or stop in the office at 60 N. Main St., Scottsburg. You may also go online to view pictures and information at www.scottcountyfoundation.org or www.facebook.com/ScottCountyCommunityFoundation.