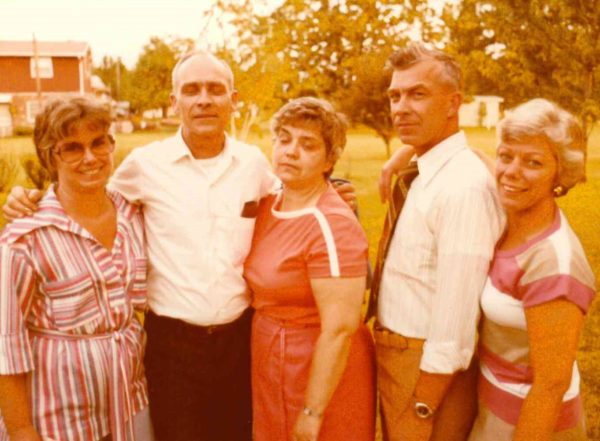 Two siblings who have dedicated their lives to serving our community have taken that one step further through the establishment of a permanent endowment fund at the Scott County Community Foundation. Created by Raymond Jones and Clara (Jones) Adkins, the Adkins-Jones Family Fund will provide support to the Scott County Heritage Center and Museum as well as the Scott County Community Foundation's operating and unrestricted funds.
The Jones family story begins with Ernest and Louise, who raised their five children here in Scott County. Orville, Velma, Raymond, Lola, and Clara attended one-room schoolhouses while their parents worked hard at their jobs and were well known for their skills. Ernest, a self-taught master mechanic, had the reputation of being able to fix anything. In fact, people often remarked, "If Ernest Jones can't fix it, you might as well get rid of it." Ernest would often remark when questioned if something was repairable, "If man made it, then man can fix it." Louise worked at Morgan Canning Factory for a few years, and then worked for more than 50 years at the John C. Grub food store, mainly as customer check-out. Louise, or "Jones-se" as she was affectionately called, got to know her customers well and became lifelong friends with some. Even though she worked outside the home, she maintained her home, cooking on a wood-burning stove or doing laundry on a wash board. There was no indoor plumbing, and the home wasn't spacious, so the siblings learned to share, get along and respect others at an early age. They had plenty of chores to do as well.
Clara became known as "Baby Sister" very early since she was the last child to be born. With this designation she was exempt from many chores around the house, and because she had a fair complexion and would easily sunburn she would delegate her garden work to her siblings. "Raymond, that garden is yours, you take care of it!" Raymond jokingly recalled.
Raymond graduated from Scottsburg High School in 1950 and married his high school sweetheart, Lola May Chanley, on June 1, 1952. They were blessed with two children, Marietta Mae and Gary Ray. "Both are of impeccable character," said Raymond. "Their mother gets the credit."
May was a stay-at-home mom during the children's younger years, giving them loving care and guidance. Raymond and May gained additions to the family by marriage when their daughter Marietta married Wallace and son Gary married Sandy. They continued to grow their family with grandchildren and their spouses as well: Kathryn, who married Oscar; Sarah, Brian, and Bradley, who married Gabbi. Brad and Gabbi have given Raymond and Lola one great-granddaughter, Raya.  "They all give me great pleasure," shared Raymond.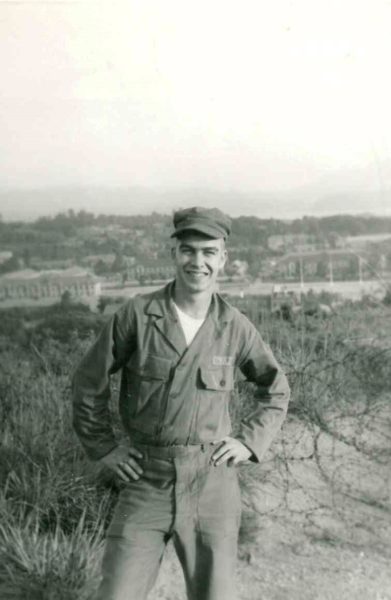 During high school, Raymond had planned to be a beef cattle farmer and studied agriculture. Just six months after he and Lola were married, he received his draft notice that the United States military needed his service. "No more thoughts of beef cattle," said Raymond. He reported for induction on Dec. 12 so they celebrated Christmas early that year. He completed a long and faithful career to our country, serving 39 years and six months before retiring June 30, 1992 as a Chief Warrant Officer. This included two years in the Army, including a tour in Korea, and 38 years as a full-time Army National Guard soldier/technician. For all his service to the military and our country, Raymond was bestowed with the honor of Sagamore of the Wabash by Gov. Robert D. Orr on July 10, 1987.
Concurrently, Raymond served with the Scottsburg Volunteer Fire Department for 50 years, including the honor of being Chief for 15 years. He remembered an incident that occurred April 8, 1988, which came to be known as the "mill fire." After the fire was under control, the Indiana State Fire Marshal remarked to Mayor Bill Graham, "Mr. Mayor, your fire department and a piece of five-inch hose just saved your city." Every fire department in the county assisted with the fire. In June 2020, the Scottsburg Fire Station Number One was dedicated to Raymond in recognition of his leadership and many years of dedicated service.
Raymond was instrumental in the formation of the Scott County Emergency Medical Service (EMS), which was formed from scratch upon direction of the Scott County Commissioners. After two years of research and study, service to the public began in 2005. A new EMS headquarters with office space, ambulance space, crew quarters, kitchen, and well-equipped training area became a reality later. The facility was dedicated June 4, 2016 as the "Raymond W. Jones Emergency Medical Services Complex" in honor of Raymond's service.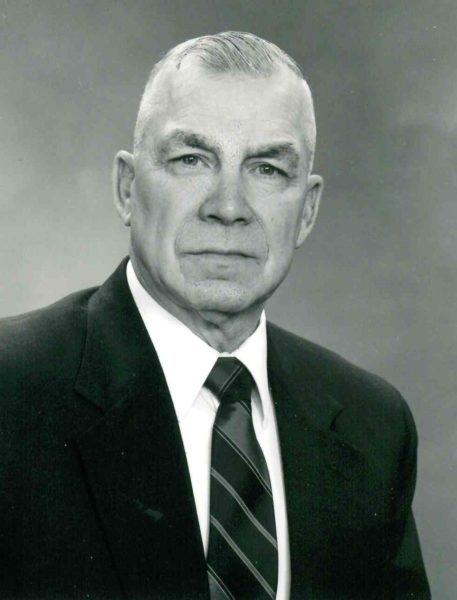 Raymond's service to Scott County also includes 18 years in the elected position of Scott County Council member. He shared that credit for any success he has achieved goes to three people: his mom and dad, who by example taught them how to live; and his wife, Lola May, now deceased, who made their house a home.
"I recall, with great admiration, the many times I have heard her comment, 'I am not a housewife! I'm not married to a house. I'm a homemaker!'" Raymond lovingly recalled. "As always, she was so correct. She supported me in my military career in many ways, not the least of which was my uniforms. She sewed all the patches and chevrons, washed, starched, and pressed all my uniforms. She pressed military creases in starched khaki shirts to perfection."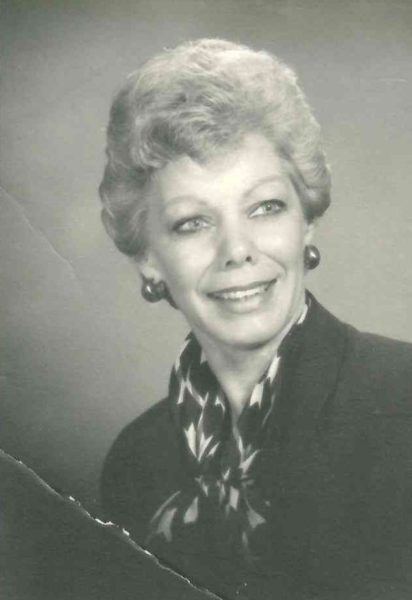 Clara married Charles "Charlie" Adkins after graduating high school in 1954. They have two children, Debbie Starr and Terri Nichols, as well as five grandchildren and five great-grandchildren. Clara, or "Nana" as she is affectionately called, also claims Heather White, her husband Jimmy and sons Tyler and Caleb as her own. "She's a daughter of my heart," said Clara.
Clara wasn't technically interested in politics when she first started working for public service; she was just looking for a part-time job in 1969. She worked for the first clerk-treasurer in Austin, and then got appointed to that position in 1973 and then elected in 1975. She served 25 years in that capacity as Clerk-Treasurer and expressed a great love for politics and her work.
After Charlie passed away in 1999, Clara retired and mentored other clerk-treasurers for a few years. She became the first female to serve on the Austin Town Council in 2004, where she served for almost three years before having to vacate the position when she moved to Scottsburg in 2006. She then became involved in county government, running for Raymond's County Council seat when he decided not to run, serving a four-year term. She still serves as the county representative to the Scott County Regional Sewer District.
"I've always loved being involved, loved Austin and Scott County," shared Clara. "You need to have passion, a fire in your gut," she said about public service.
Raymond remembers a city business trip to Washington, D.C. that Clara took with other elected officials from Austin and Scottsburg. "She conned Scottsburg Mayor Bill Graham to carry her 'make-up' bag during the entire trip," laughed Raymond. "Bill later confided to me that Clara instructed him 'This is the most important piece of luggage on this trip!'"
Clara met her beloved companion, Joe Tichenor, in 2001. They had a wonderful 21-year relationship until he passed away in September 2022. They enjoyed traveling and living life, and Clara shared that he was a good man whom she loved dearly.
Clara also served on the Board of Directors for the Scott County Partnership from 1998-2012, as well as the Board of the Scott County Heritage Center and Museum. While Clara jokes about not wanting to "toot her own horn," she paved the way for many women today who serve in Scott County. For her efforts, the Scott County Business and Professional Women's Club awarded her "Woman of the Year" in 1985, and Gov. Frank O'Bannon awarded her the prestigious Sagamore of the Wabash in 1999 when she retired.
As a retiree, Clara now enjoys the time she spends with family and friends, including daily phone conversations with several of them.
While anyone who knows Raymond and Clara enjoys their playful sibling banter, they both speak highly about each other when reminiscing about their lives. "I still sign my cards 'Baby Sister' to Raymond," laughed Clara. Clara also echoed what Raymond had to say about the influence of their parents on their lives of service to the community.
"We are what we are because of Mother and Daddy's hard work and their beliefs: 'Your word is your honor' and 'don't forget where you came from,'" shared Clara. She has tried to maintain a "glass half full" attitude in everything she does. She is often heard quoting, "Anybody can be a good winner. But it takes a real winner to be a good loser."
Their kindness and dedication to Scott County is far-reaching and an important part of who they are. By creating a permanent endowment fund to benefit Scott County, they are ensuring that causes they care about will be financially supported long after they are gone.
"These are two people I've known my entire life and they have always served and given back to our community," shared Heather White, who was the former board chairperson for the Scott County Community Foundation and nurtured conversations with Clara and Raymond about creating their legacy. "They have set an excellent example of leadership for all to follow."
Raymond shared that he has always been interested in history and the preservation of it. He also became a board member for the Preservation Alliance Inc., which oversees the Scott County Heritage Center and Museum. "They are involved not only in the preservation of history, but also making it available for all to see and learn from," he said. "As a past board member I know how much time is spent by volunteers. These volunteers provide all manner of services in addition to fundraising; they need help from all of us. An excellent way to provide ongoing support is through an endowment fund."
The Adkins-Jones Family Fund will also provide operating and unrestricted support to the Scott County Community Foundation. Clara was an early board member for the Community Foundation, having served from 2001-2007. She ended her service with a bang when the Foundation moved to its permanent location at 60 N. Main St., Scottsburg. Board members were hands-on in the cleaning prior to a complete renovation. Walking in with her fur vest and light pants, Clara rolled up her sleeves and promptly asked what was needed, much to the delight of staff and board members. She was a dedicated volunteer and has often remarked that the Foundation is like any other charity and needs operating support so it would be here to serve the community.
"I have seen positive results from the Foundation's efforts," added Raymond. "I am grateful we have this organization providing this service to our community."
"I've always felt that the Community Foundation does such good work and helps so many different organizations, that I wanted to be a part of that. This is how we can do that," said Clara. "We're hoping that the legacy we leave will follow through to the next generation."
Her daughter, Debbie, agreed that it already has. "Her children and grandchildren are continuing her legacy through patriotism and community-minded efforts."
"We are so thankful that Raymond and Clara have entrusted the Community Foundation to assist with their charitable giving," said Executive Director Jaime Toppe. "Raymond and Clara are both a joy to anyone who knows them. It doesn't surprise me that two people who have such long lives of community service would still be thinking of how they can help others with a permanent fund."
If you would like to donate to the Adkins-Jones Family Fund in honor of two people who have dedicated their lives to serving others, you may send your contribution to the Scott County Community Foundation; PO Box 25, Scottsburg, IN 47170. You may contact the office with any questions at 812.752.2057, email info@scottcountyfoundation.org or visit www.scottcountyfoundation.org.