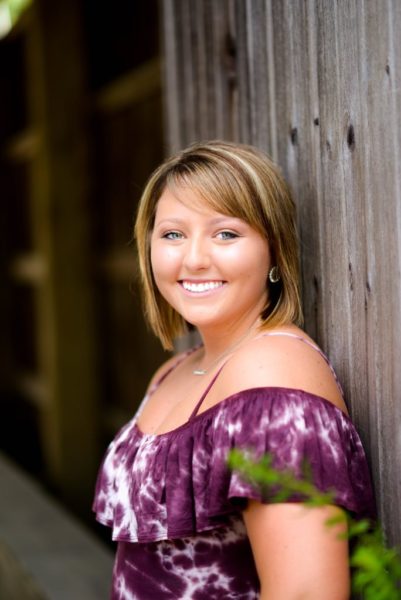 The Scott County Community Foundation has welcomed Allie LaMaster to the team. Allie is the new Career and College Counselor intern under a program funded by the Lilly Endowment. The Community Foundation Internships (CFI) program is part of Lilly?s goal to help build healthy Indiana community foundations and to provide college students with real-life work experiences.
Allie?s duties involve counseling students at Austin and Scottsburg high schools with career and college choices, scholarship and financial aid opportunities, assisting students with the 21st Century Scholarship requirements, coordinating job shadowing/internship opportunities, coordinating college visits and more.
Allie has been a resident of Scottsburg for more than 17 years. She is the daughter of Mark and April LaMaster of Scottsburg. She graduated from Scottsburg High School in
December 2017. Allie is attending Ivy Tech Sellersburg in pursuit of an associate?s degree in nursing. From there, Allie will transfer to Indiana University Southeast to obtain her bachelor of science in nursing.
After graduation, Allie plans to work in an emergency room or at a family practice. Her main career goal is to make an impact on patients and possibly save lives. Interning at a doctor?s office and student teaching has given Allie the skill set that she needs to communicate effectively with students. She is excited to be able to impact other youth in her community and to help guide them with college and career planning.
?I am very thankful to have been blessed with this opportunity through the Scott County
Community Foundation,? Allie said. ?Preparing to go to college, trade school, or straight to a career can be a difficult decision and having a hand to hold through the whole process can put your mind at ease. I hope that I can be that helping hand to as many students as I possibly can. I can?t wait to collaborate with the faculty and staff at Scottsburg and Austin high schools to help better the student body.?
?Scottsburg High School is so glad to have this internship partnership with the Scott County Community Foundation,? shared Shannon Mount, K-12 College and Career Counselor for Scott County School District 2. ?It gives a college student a way to give back plus helps our school and counseling department in return. I think it is safe to say that there is never a dull moment in a high school counseling office. Allie has a wonderful work ethic and great positive attitude. She will fit right in at Scottsburg High.?
?Austin High School is very excited to have Allie assisting our 21st Century Scholar students as well as helping students with college applications and tutor students who are struggling,? said AHS guidance counselor Cindy Watts. ?Allie has been a tremendous asset to AHS. She has submerged herself into our student body and has rolled up her sleeves and went to work.? She has fit right in and the students feel comfortable working with her.? Thank you to the Scott County Community Foundation for making this assistance possible.?