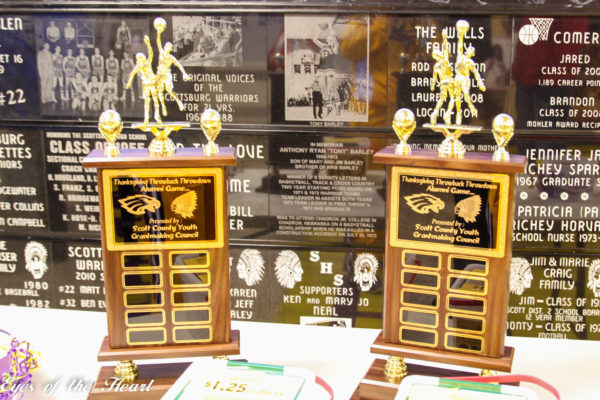 Rivalries and basketball fever will come together for a good cause at the Scott County Youth Grantmaking Council?s second annual Thanksgiving Throwback Throwdown fundraiser! The Austin versus Scottsburg game will feature alumni from the schools battling for a coveted traveling trophy and bragging rights. Last year Austin men and women took home both trophies on Warrior territory.
The big event will be held Sunday, Nov. 20 at 5 p.m. at Rigel Gym in Austin. Tickets are $3 for students, and $5 for adults. Concessions will be available. There will be a Turkey shoot-out contest in between the girls and guys games, with a $100 cash prize.
The YGC is still seeking players for the games. Current players include: Austin women: Amy (Herald) White, Courtney (McGinity) Hover, Becky Hollan, Brittany Smith, Kelly Hollan; Scottsburg women: ?Mary Jones, Melinda Sparkman, Patty (Hutchinson) Clancy, Jaime (Mays) Cutter, Jennifer (Miller) Morris, Tiffany (Barger) Copple, Jennifer (Collins) Donohue, Jamie (Collins) Beverly, Courtney Means, Carla (Westmoreland) Zellers; Austin men: Anthony Winchester, Ty Winchester, Ben Raichel; Scottsburg men: Eric Mullins, James Colwell, Johnney Coomer, Eric Copple, Jake Johanningsmeier, Evan Hutchinson, Dustin Marshall, DJ Myers, Jeremy Ohanis, Cameron Collins.
Youth Grantmaking Council member Avery Kendall will do the honors of singing the National Anthem before the games. Cheer teams are being organized again; Scottsburg cheerleaders should contact Jason Kendall, Cindy Howser or Jennifer Craig, while Austin cheerleaders should contact Brittany Banister. The YGC hopes to have an alumni band as well. Fans are encouraged to use #alumniweek on social media to share photos from the past.
Sponsors are still needed to help make this a successful event. Last year?s event raised $5,800 for the youth of Scott County! The YGC invites the entire community to a fun night of Hoosier hysteria and witnessing the greats play again!
The YGC is a program of the Scott County Community Foundation, where youth learn about community service, leadership, teamwork, fundraising and grantmaking.? This past year the YGC awarded $5,000 in grants for youth-related projects. Please contact Jaime Toppe at 812-752-2057 or email info@www.scottcountyfoundation.org for information, to sign up to play or sponsor the event.