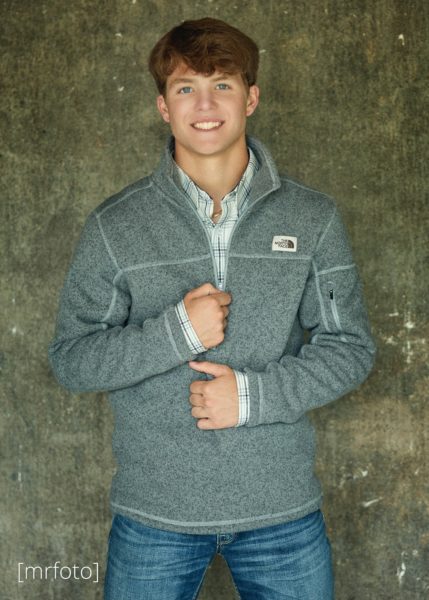 Scott County Community Foundation is pleased to announce the recipient of the 2023 Lilly Endowment Community Scholarship, Brady Watts of Austin High School. Lilly Endowment Community Scholars are known for their community involvement, academic achievement, character and leadership. He joins 41 other Lilly Scholar recipients from Scott County since 1998.
Each Lilly Endowment Community Scholarship provides for full tuition, required fees, and a special allocation of up to $900 per year for required books and required equipment for four years of undergraduate study on a full-time basis leading to a baccalaureate degree at any eligible Indiana public or private nonprofit college or university. Lilly Scholars may also participate in the Lilly Scholars Network (LSN), which connects scholars with resources and opportunities to be active leaders on their campuses and in their communities. Both the scholarship program and LSN are supported by grants from Lilly Endowment to Independent Colleges of Indiana (ICI) and Indiana Humanities.
Brady is the son of Rodney and Angela Watts of Scottsburg. He is President of Student Council, serves in Sons of Liberty, Scott County Youth Grantmaking Council, and 4-H. He also plays baseball and runs cross country. Brady is ranked first in his class with a 4.0 grade point average. He is enrolled in the Academy program, which will allow him to graduate with an associate's degree from Ivy Tech Community College before his high school graduation. He plans to attend the University of Southern Indiana to major in business management and play for the Screaming Eagles baseball team.
"It is an honor to be awarded the Lilly Endowment Community Scholarship," said Brady. "I cannot thank the members of the Community Foundation and the Scholarship Committee enough for selecting me as the Scott County recipient. I am very excited to begin my college career, and I cannot express enough how thankful I am that the scholarship will allow me to obtain a college degree without financial stress."
"On behalf of the Community Foundation's Scholarship Committee and Board of Directors, we are pleased to announce Brady Watts as the recipient of the 2023 Lilly Endowment Community Scholarship," said Scholarship Committee Chairperson Tinisha Bowles-Densford. "All students named as finalists this year were exemplary. We congratulate Brady for being named as 2023 Lilly Scholar, we know that he will be a great representative of our community and will continue to make Scott County proud in his future achievements."
Students were judged based on community involvement, extra-curricular activities, work activities, academics, financial considerations, honors and awards, letters of recommendation and two essays. Eleven students advanced to the interview portion as finalists. After the scholarship committee narrowed the field, nominees were submitted to ICI for the selection of the Scott County recipient. ICI is the statewide administrator of the Lilly Endowment Community Scholarship Program, which approves the final selection of scholarship recipients.
Lilly Endowment created the Lilly Endowment Community Scholarship Program for the 1998-1999 school year and has supported the program every year since with tuition grants totaling in excess of $486 million. More than 5,000 Indiana students have received the Lilly Endowment Community Scholarship since the program's inception. The primary purposes of the Lilly Endowment Community Scholarship Program are to help raise the level of educational attainment in Indiana; to increase awareness of the beneficial roles Indiana community foundations can play in their communities; and to encourage and support the efforts of current and past Lilly Endowment Community Scholars to engage with each other and with Indiana business, governmental, educational, nonprofit and civic leaders to improve the quality of life in Indiana generally and in local communities throughout the state.
Since awarding its first community grants totaling $50,000 in 1997, the Scott County Community Foundation has been Scott County's partner for positive change. Scholarships and grants totaling more than $5.6 million have made it possible for local students to attend college and for the diverse needs of our neighbors to be served. In addition, over $13 million has been funneled to Scott County through the Community Foundation through the generosity of Lilly Endowment Inc.