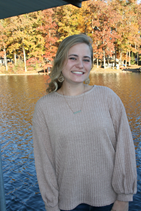 The Scott County Community Foundation has recently welcomed Brennyn Pollert as the new Career and College Counselor intern. This opportunity has been funded by the Lilly Endowment through the Community Foundation Internships Program (CFI). This program intends to build strong community foundations, as well as provide significant internship opportunities for college students who are eager to advance their educational and personal development.
As the Career and College Counselor intern, Brennyn will be counseling students at Austin and Scottsburg high schools. Brennyn will be discussing career and college choices with students, as well as scholarship and financial aid opportunities. Additionally, Brennyn will be coordinating college visits as well as job shadowing and internship opportunities.
Brennyn graduated from Trinity Lutheran High School in 2010. She holds a bachelor?s degree in Psychology from Indiana University Southeast where she is currently in her final year of graduate school pursuing a Master?s Degree in School Counseling. Following graduate school, she plans to begin her career as a K-12 school counselor. She is currently engaged to her fianc?, Nick Roby, and together they have a Miniature Australian dog named Oaklee.
?I am thrilled to be a part of Scott County as the Career and College Counselor intern,? said Brennyn. ?This position gives me the opportunity to give back to a community, while assisting the youth of Scott County in becoming successful individuals both during and after high school. I believe every student has the right to a successful future and I am looking forward to everything I will get to offer for this position. I am thankful to the Scott County Community Foundation and Scott County schools for this opportunity.?
?The Community Foundation Internship program has been a great opportunity for our community, and we are thankful to Lilly Endowment Inc. for providing the funding,? said Scott County Community Foundation Executive Director Jaime Toppe. ?Brennyn is the 21st student to benefit from the internship program during the last several years, and this will be great real-life experience before she becomes a guidance counselor.?