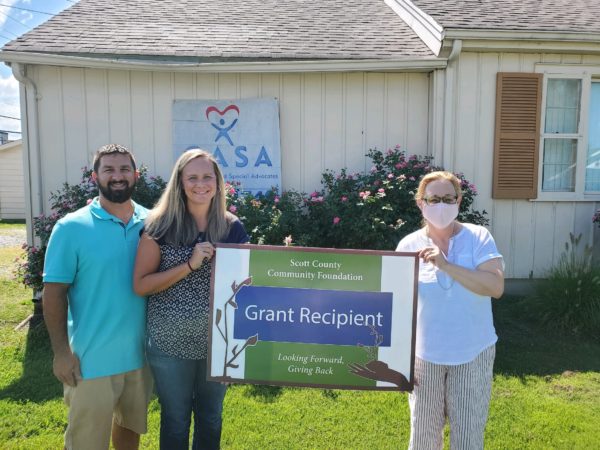 Julian and Ashley Stallings present a grant for $1,000 to Kelly Shelhamer, executive director of CASA of Scott County. The grant was awarded from the Jayce Ray Stallings Memorial Fund at the Scott County Community Foundation. CASA has had to postpone their annual Taste of Scott County fundraiser, and may have to cancel altogether. ?Without the fundraising efforts we normally are able to do, donations like the one from the Stallings is imperative to keep us going,? said Shelhamer. ?Their donation, along with others, has helped us serve 233 children so far this year even with the restrictions we are currently working through. Even with everything going on our service to children has increased from the same timeframe from last year when we served 220 children in 2019.?
Virtual visits with children, CASA volunteers, family, Department of Child Services, and other providers have had to take place of face-to-face visits due to COVID-19. ?This leads to a more difficult time bonding with the child, possible issues with connecting if there is limited internet or cell phone service, and added stress on the children when they have even less contact with their families and therapist when they are already in a high stress situation from being removed from their home and family,? shared Shelhamer. ?In addition to this happening with the children who were already in foster care, we have had 95 new children enter the system this year. When we compare this to last year at the end of July 2019 we had 67 new cases for the year so far. That is an increase of 28 children coming into the system that was already over-stressed due to COVID related issues.?
?Thank you to the Stallings family for their grant and to other donors who are so supportive to CASA of Scott County,? said Kelly. ?It is your support that enables us to be the voice for the abused and neglected children of Scott County. We are always looking for more volunteers to help us serve the 72 children on our wait list.?
To get more information on volunteering and the virtual training class to be a voice for a child in need, you may call the CASA office/Paula Kern at 812-752-4748.