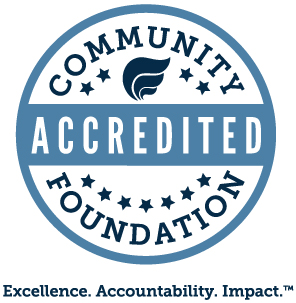 Scott County Community Foundation recently received accreditation with the nation?s highest standard for philanthropic excellence, shared Executive Director Jaime Toppe. National Standards for U.S. Community Foundations? establish legal, ethical, effective practices for community foundations everywhere.
?Meeting the National Standards benchmarks is a rigorous, comprehensive process,? said Randy Royster, Chair of the Community Foundations National Standards Board. ?This accreditation is a significant accomplishment that indicates Scott County Community Foundation demonstrates a commitment to transparency, quality, integrity and accountability as it carries out its mission.?
The National Standards for U.S. Community Foundations? program requires community foundations to document their policies for donor services, investments, grantmaking and administration. With over 500 community foundations already accredited nationwide, the program is designed to provide quality assurance to donors, as well as to their legal and financial advisors.
?It is very important for us to be able to tell our donors we have achieved this accreditation,? said Toppe. ?When people make a charitable bequest or establish a fund, they are putting their trust in us. They are counting on us to manage the investment wisely and honor their charitable wishes. The National Standards accreditation is like our ?Good Housekeeping Seal.??
Through philanthropic services, strategic investments and community leadership, Scott County Community Foundation helps people support the causes they care about, now and for generations to come.
Scott County Community Foundation offers a range of charitable funds, allowing donors to advance a cause, support an individual organization, provide flexible support for community needs or recommend individual grants. In addition to affirming the organization?s philanthropic services, the accreditation validates Scott County Community Foundation?s grantmaking practices for the nonprofit community.
Scott County Community Foundation is celebrating its 20-year anniversary in 2017. It is governed by an 11-member Board of Directors: Josh Stigdon, chair; Nancy Barr, vice chair; L.L. Lowry, treasurer; Heather White, secretary; Sheila Carter, Lisa Conder, Michael Everett, Chris Fugate, Melinda Sparkman, Christa West and Dennis Wilson.
Since awarding its first community grants totaling $50,000 in 1997, the Community Foundation has been Scott County?s partner for positive change. Scholarships and grants totaling more than $3 million have made it possible for local students to go to college and the diverse needs of our neighbors to be served. In addition, more than $8 million has been funneled to Scott County through the Foundation because of the generosity of Lilly Endowment. Projects that have been made possible due to this funding include the CAPE educational initiative, Lifelong Learning Center, Scott County Family YMCA, Scott County Clearinghouse, recreational areas in Austin, Lexington and Scottsburg, Lilly Endowment Community Scholarship Program and more.
For more information on how the Scott County Community Foundation can assist you with your charitable giving, please call 752-2057, email info@www.scottcountyfoundation.org or stop in the office at 60 N. Main St., Scottsburg.