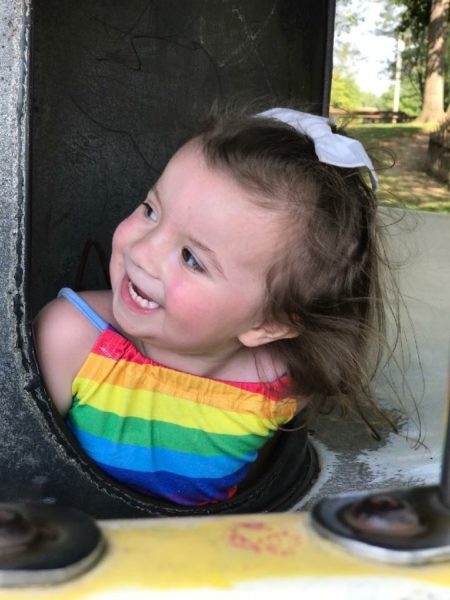 Cree Woods is only six years old but through a fund at the Scott County Community Foundation, she is already leaving a legacy at a young age.
Cree, the daughter of Chris and Melissa Woods, is a student at Vienna-Finley Elementary School. She is a member of American Martyrs Catholic Church. She has two cats, Heinz and Pepper, and a new puppy, Copper. Cree loves to have play dates with her friends, spend time with family, paint, swim, dance and play badminton. Her favorite movie is The Peanuts Movie, and she hopes to be a firefighter someday.
Those who know Cree thoroughly enjoy the bright child's "CreeTV" videos that she creates to talk about the important things in her life – cheering for IU, her new puppy, dance moves, losing teeth, and other fun topics.
Cree's mom, Melissa, has made a career working for nonprofits and in community development. She first joined the Community Foundation's Grants Committee in 2015 and was able to see firsthand the impact made in the community through unrestricted funds. As a board member since 2017, Melissa was able to learn more about the Community Foundation's Forever Tree Society, which allows donors to become members with a $500 unrestricted gift. The Cree-ating Community Fund was established through the Forever Tree Society by the Woods family in 2019, with the goal of assisting the community with any needs that arise.
"It's important to us to instill the love for community and helping others in Cree," shared Melissa. "We want her to carry on a love for her community and have the desire to help those in need and to make our community even better. My parents have always taught me the importance of philanthropy, no matter how much you are able to give. Every little bit makes a difference. Our hope is that Cree will pass on our love for philanthropy and community to her children someday."
One can almost hear Cree's sweet voice when Melissa shared her reaction to being told about the fund in her honor: "Oh, well that's nice."
"I know her understanding of the fund is not truly comprehended at the young age of six," said Melissa. "However, I know someday she will be proud of the fund and the positive impacts it will provide to the community throughout the years to come."
Gifts to the Cree-ating Community Fund can be made in honor of Cree for any special occasion, or just to show your support to a little girl who is making a big difference in our community.
For more information on the Forever Tree Society or how to donate to Cree's fund, you may contact the Scott County Community Foundation at 812-752-2057, email info@www.scottcountyfoundation.org, or stop in the office at 60 N. Main St., Scottsburg. You may also visit www.www.scottcountyfoundation.org.