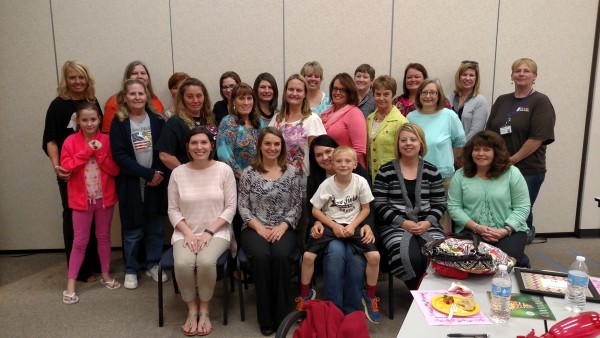 Preschool providers and kindergarten teachers recently gathered for an early childhood education round table. The event was sponsored by the Early Childhood Committee of the Scott County Community Foundation and United Way of Scott County, which is chaired by Austin Elementary Assistant Principal Sheila Carter.
United Way of Scott County Executive Director Nancy Riley shared information on the Dolly Parton Imagination Library, which provides free books for children from birth through age five. The initiative is made possible through a partnership with United Way, Scott County Community Foundation, and many local individuals and groups that sponsor children each year. There are currently 708 children in Scott County who are receiving the free books, and 308 who have ?graduated? from the program when they turned five.
Next, teachers participated in roundtable sessions led by Sherry Mosley with First Christian Church Preschool, Lindsey DePriest with Lexington Elementary School, Brittany Banister with Vienna-Finley Elementary School, Jennifer Johanningsmeier with Lexington Good Faith Preschool and Stacy Payne with Austin Elementary School. Topics covered fine and gross motor skills, classroom management, counting, letter formation, writing and recognizing names. Helpful tips using everyday objects were shared with participants, who also had the opportunity to meet other teachers and share ideas. Door prizes were awarded to Becky Jackson, who has taught the longest, and Marjorie Keith, who won the ?Pass the Package? game. They received gift cards and a candy bar.
?I feel our first round table event was a success,? said Early Childhood Education Committee Chairperson Sheila Carter. ?Our goal is to develop a ?network? within our early childhood providers in Scott County in order to provide the best education possible for our students.?This will allow teachers/aides to bounce ideas off of one another, supply advice or ask for advice.? As educators, we should be in a constant ?learning? mode if we want to give our students everything they require and deserve in our classrooms.?
The Early Childhood Committee?s purpose is to gather information on early childhood resources, promote early childhood activities and initiatives, and advise the United Way and Community Foundation boards on early childhood programs and issues.