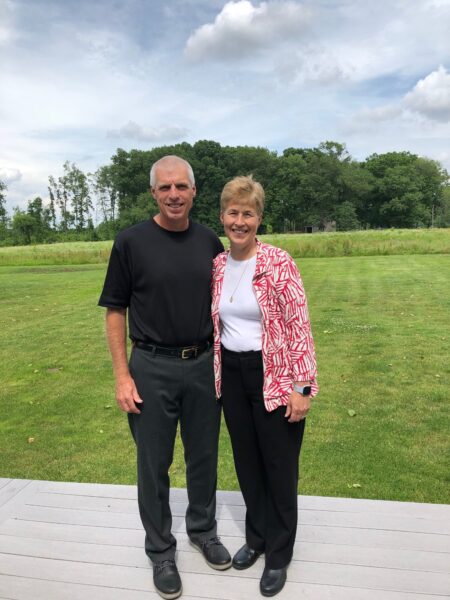 Long-time Scottsburg educators Brady and Julie Wells have chosen to provide a permanent gift to the community as their way to continue their support to the school after retirement. The Scottsburg High School Classroom Innovation Fund was recently established at the Scott County Community Foundation and will provide a way to fund unique classroom opportunities for years to come.
Brady and Julie were fortunate to have spent 25 years in Scottsburg, serving as educators at Scottsburg High School for most of those years. Upon retirement from Scott County School District 2, they moved to Madison and started their second careers. Brady serves as men?s and women?s cross country coach at Hanover College, and Julie is the scholarship manager at the Community Foundation of Madison and Jefferson County. Their daughter, Lauren Wells Bowling, graduated from SHS in 2008, while their son, Logan, graduated in 2011. Their granddaughter attends Scottsburg Elementary School, so it is meaningful to the family to maintain their commitment to students.
Because of their appreciation for the work done at the school, and to recognize the many outstanding teachers, they established this permanent endowment fund to encourage creative classroom activities. Teachers can request up to $250 to fund unique projects or classroom needs that are not covered by other sources. The first award will be given at the end of this school year, with applications available in late winter.
?The Wells family were a valued part of the Scottsburg High School family for years,? said Principal Chris Routt. ?Their generosity with this new fund for SHS will enable teachers to offer new learning opportunities for our students.?
?This new fund is a great way to inspire imagination in teachers and allow them to try new ideas and projects in their classrooms,? said Scott County Community Foundation Executive Director Jaime Toppe. ?We are honored that Brady and Julie were able to utilize the Community Foundation for their charitable giving.?
If you would like to make a donation to this fund, you may mail to the Scott County Community Foundation; PO Box 25; Scottsburg, IN 47170. You can also stop in the office at 60 N. Main St., Scottsburg.