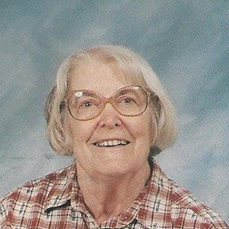 Ella Maude McCulloch was involved in mission work of some degree during her entire 90 years of life, and now an endowment fund to benefit missions at Scottsburg United Methodist Church will honor her contributions to others.
Ella Maude was born July 31, 1920, in Charlestown, Ind., to John and Myrtle Faye Kenny McCulloch.
Most of the members of the Scottsburg United Methodist Church vividly remember when Ella Maude would join weeklong group trips to Oklahoma to help build a church.? ?She was also known to take off in her car any given day when there was a disaster close by, or in a neighboring state, to clean debris or anything that she could do to be helpful to those who had a need.
By vocation Ella Maude was a nurse and loved to be a caregiver to people in need. She was a very calm and peaceful person to be around. She showed many the love of Christ through the faithful volunteer work she did in her neighborhood and her church. On one occasion, recalled a Scottsburg United Methodist Church member whose brother had passed away, Ella Maude drove over 220 miles to attend the funeral.
This wasn?t the only time she did things like that as she always was involved in activities that showed the love, compassion, mercy and servant nature of a true follower of Jesus Christ.
For many years she quietly volunteered at the Scottsburg United Methodist Church to help fold envelopes, pick up the attendance sheets out of each folder in the pew, and count the offerings. She attended church each week without ever missing a Sunday. In 2007, she was awarded an Attendance Pin for 14 years of perfect attendance in her Sunday School class. ?She continued on after that to be a regular church attendee until her illness and eventual death in 2010.
Ella Maude was 90 years old when she passed away. For her funeral services, conducted by Stewart and Hoagland Funeral Home in Scottsburg, she requested that the pallbearers be female.
For those who knew her, it brings great joy to have her passion for missions recognized by a mission endowment in her name to benefit the Scottsburg United Methodist Church, said L. L. Lowry, who serves on the SUMC Endowment Committee.? ?The endowment fund will be managed by the Scott County Community Foundation, which will distribute earnings each year to the church?s Endowment Committee which will support mission work and mission events in Ella Maude?s name.
An associate of the Scottsburg Methodist Church endowment committee reported that this is not something that Ella Maude asked for, but something the church chose to do to gracefully honor her example of love and service to others.
?What a wonderful way to carry on Ella Maude?s legacy through this fund,? said Scott County Community Foundation Executive Director Jaime Toppe. ?I commend church members for having the vision and desire to make a lasting effect in our community, and for placing their trust in the Community Foundation to manage this fund in perpetuity.?
?I encourage anyone who is considering making a similar impact in Scott County to think about how establishing an endowment fund can help the cause you are passionate about for generations to come,? said Toppe. ?With our Lilly Endowment matching grant program, we are able to match all gifts to endowment funds for a limited time, which will really help get more dollars into our community.?