Members of the Scott County Community Foundation (SCCF) Board of Directors and staff, Scott County Farmers Market and Preservation Alliance Inc. (PAI) celebrated a groundbreaking ceremony for the future site of a permanent Farmers Market structure. The Scott County Community Foundation is funding the structure as a gift to the community to celebrate Scott County?s Bicentennial. It will be located on the grounds of the Scott County Heritage Center and Museum.
?While many of the Bicentennial activities had to be canceled this year due to COVID-19, we wanted to end the year on a positive note,? shared SCCF Executive Director Jaime Toppe. ?Scott County has deep agricultural roots, as well as a rich history throughout the community and right here at the Museum. Many families used this land to farm many years ago. We want to celebrate this heritage with a gift that can be used for many years to come.?
The gift was made possible by an unrestricted grant from Lilly Endowment Inc. In the fall of 2018, Lilly Endowment notified community foundations of a board engagement grant opportunity to recognize the important role that the community foundation?s board of directors plays in both leading the Foundation and serving Scott County. Thirteen board members met the giving incentive during this time-period, resulting in an amazing return on investment with a grant for $100,000, shared Toppe. The SCCF Board of Directors voted to use the funds to provide this permanent gift to residents.
Farmers Market Master Sharon Parker and PAI vice president Jimmy Hutton also expressed their appreciation for the project. PAI is the nonprofit which oversees the operation of the Museum. The Farmers Market had tremendous growth this year with their move to the Museum grounds, and hopes to expand the number of vendors and offerings. The Museum will also benefit from the new structure, with potential plans for educational lunches, demonstrations and special events. The planning committee hopes to have the structure in place for the opening of the 2021 Farmers Market. Happy birthday, Scott County!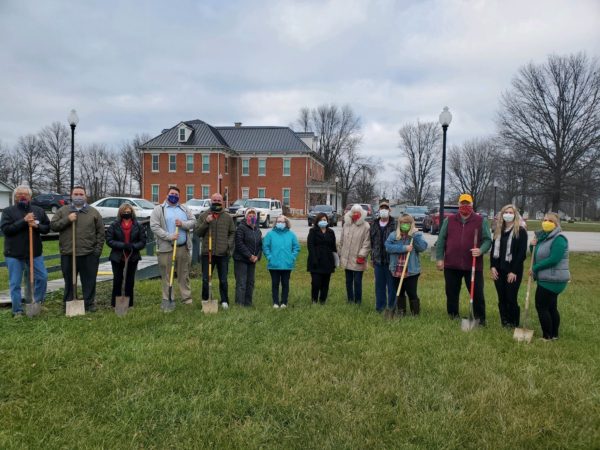 On hand for the special ceremony were (left to right): Farmers Market vendor Chris Wakeman, SCCF Board Treasurer Daniel Brunner, SCCF Board Chairman Heather White, SCCF board member Ryan Payne, PAI Vice President Jimmy Hutton, PAI board member Mary Beth Comer, PAI board treasurer Lena Lundgren, SCCF Financial Officer Charlotte Boswell, Museum volunteer Janet Payne, Farmers Market vendor David Parker, Farmers Market Master Sharon Parker, SCCF board member Al Riggle, SCCF Executive Director Jaime Toppe and SCCF board secretary Melissa Woods.