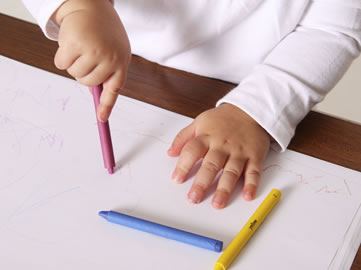 Preschool teachers, aides and others who work in early childhood education are invited to a roundtable event this month. ?Preschool Readiness Skills: when targeting fine motor skills, it?s not just about pen and paper!? will be presented by Pediatric Occupational Therapist Mandy Petersen. The free session will be held Tuesday, Feb. 20 from 4-5 p.m. at the Lifelong Learning Center on Community Way in Scottsburg.
Petersen received her bachelor of science degree in therapeutic recreation with a minor in psychology from Indiana University, and her master of science degree in occupational therapy from Spalding University. She has been active in the area of pediatrics for five years. She has certifications and experience with CBIT training, sensory feeding strategies and therapeutic listening. However, her area of interest and expertise is in handwriting with a focus on visual motor and visual perceptual skills. Petersen has been able to contract with Scott County School District 2 for the past two years and has been implementing a handwriting program within RTI groups. She realizes the importance of fine motor development and hopes to share some strategies to help the preschool population of Scott County. Mandy and her husband Jared have two-year-old twins, Callan and Grady.
This roundtable is sponsored by the Early Childhood Committee of United Way of Scott County and Scott County Community Foundation. The EC Committee has been in existence for four years, and is involved with topics and initiatives related to the education and care of young children.
Refreshments are included and a door prize will be given. To register, please call 812-752-2057 or email info@www.scottcountyfoundation.org.