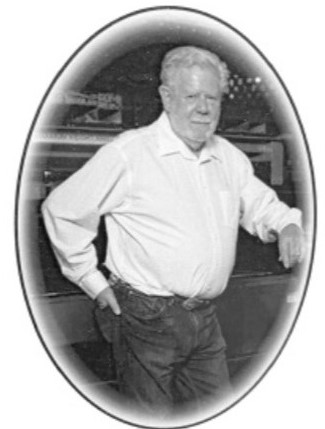 Hardworking. Proud. Intelligent. Driven. Brave. Loving. All these are words that describe Arthur ?Gene? Mayer, a family man who left a lasting mark on all who knew him, and even those who didn?t.
Gene was born on May 3, 1943, the son of Elmer and Opal Olivia Hedges Mayer. He was a lifelong resident of Scottsburg. Gene was married to Donna for 55 years, and they have a son, Todd, and two daughters, Christy Coomer and Karen Mayer-Sebastian. Their grandchildren include Sean Mayer, Mitchel Sebastian, Noah Sebastian, and Chace Coomer. They also have one great-grandson, Kyler Mayer.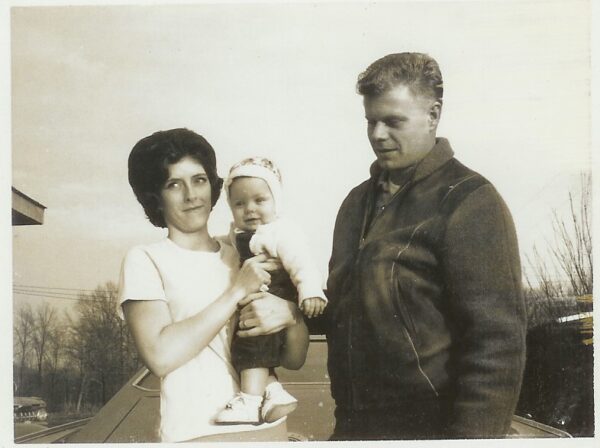 ?Growing up, Dad always worked at least two jobs to try and get ahead for our family,? shared his daughters, Christy and Karen. ?He was always very smart but had a drive that was uncommon.?
Christy shared that although money was tight, he ensured his family was taken care of and his children were well-rounded. He built with his own hands a home in the country. He purchased dirt bikes, four-wheelers, and a pool, all second-hand but refinished by his hands to make good as new.
?We spent all of our time together as a family working hard and playing hard,? said Karen. The family home included raising chickens, pigeons, hamsters, snakes, frogs, cattle, horses, guinea pigs, rabbits, dogs, cats, and even a Macaw parrot and pet skunk.
?As we got in the middle school years, Dad bought us our first boat. From that point forward, we were always on the water and that continued until Dad left us,? said Christy. Most summer weekends were spent boating, and Gene taught all of his children and most of the grandchildren how to ski and wake board. He even tried to teach his wife, but that was one of his few failures.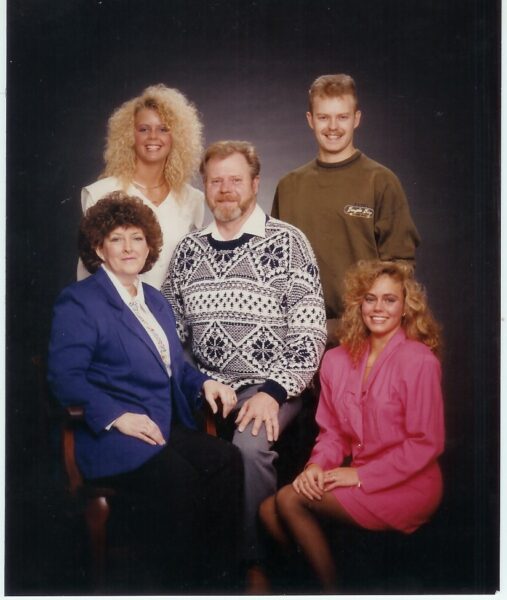 Christy fondly remembered how dedicated her dad was to his children and their activities. ?We were all involved in sports and band, and Dad always made sure to be at every performance for each one of us. As we reached adulthood, we saw Dad most days and spoke to him on the phone every day. He called and checked on us every day and was very invested in his children?s lives as well as his grandsons?,? said Christy.
Gene and his brother Charlie founded Total Concepts of Design. Both brothers had various skills in manufacturing and recognized an opportunity for a custom packaging supplier with an emphasis in steel. ?They had a vision of our family working together to build something to be proud of,? said Christy.
They started the company in Gene?s garage, which led to relocation to a vacant plant on the west side of town after the commercial traffic became too much on the residential Main Street. Through the years, the brothers reinvested profits in the company and added machinery and more space, while also branching out into Department of Defense work. Gene retired in 2005, and at that time, the business employed 130 individuals and encompassed 48,000 square feet with many state-of-the-art pieces of equipment. Throughout the years, many of he and Charlie?s family worked at the company, and their families continue to operate it today. Gene was so proud of the business and for providing employment for so many families in Scottsburg. ?It was a responsibility he didn?t take lightly,? shared Christy.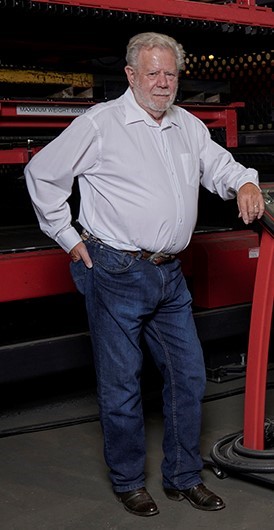 Gene was an avid reader and loved collecting first edition books. He loved cars, boats, and motorcycles, and rode his entire life. He even waterskied at age 72.? Gene was an avid gun owner and a lifetime member of the National Rifle Association. At age 75, he took down an Aoudad in the mountains with a single shot at 729 yards. The horn length of 33 inches made it a record-breaking hunt. Gene went on a big game hunt in the mountains at age 76. He was planning on another hunt, which he said would be his last, but he fell ill with COVID a month before it was to happen. Gene also spent time with each grandson educating them on safe gun ownership.
?My fondest memory is the fact that Dad always had time for us and that we always knew we were important,? said Christy. ?As I watched him with his grandsons, every conversation and any time spent with him was them being educated. He never preached at them but it was so subtle, they never knew he was giving them life lessons.?
?Mom told stories of Dad being a really great speed skater when he was younger,? said Karen. ?In fact, they wanted him to go on tour with a speed-skating team. At our children?s birthday parties at the skating rink, we got a little taste of that as Dad, who was nearing 70, skated backwards and jumped in the air!?
A man of many interests, he also flew model planes in Florida and enjoyed being a member of the flying club. He was a snowbird and enjoyed spending winter at their Florida residence for the last 15 years. He loved adventures and road trips. Many times, he would buy a car or something else out of state and fly to get it and drive it back to Indiana. The last item he purchased was a convertible Corvette. Many road trips happened over the years in the same way.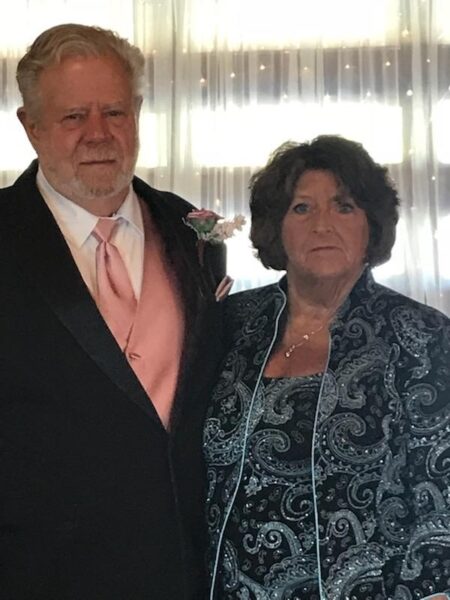 ?As much as he loved adventure and loved his hobbies, his favorite thing in the world was his wife,? shared Christy. The couple was married when she was 17 and he was 21. Donna completed high school as his wife. Gene always tried to support her and her interests, and they were good for each other. ?No matter where he went or what he did, he wanted her right there with him,? said Christy.
Donna had a brush with death in 2010, and Gene was broken at that time. She pulled through, and her care became his primary focus in life. He managed her healthcare, and she went right on taking care of him and the household. ?The 55 years that they were married were not nearly enough,? said Christy.
Gene had many friends, and each one was very important to him. He made it a lifetime commitment by regularly checking in on his long list of friends. While known to be blunt and outspoken, he was honest. To quote one of his grandchildren, ?If the only Gene Mayer that you knew was the one that was gruff and had hard edges, then you didn?t really know Gene Mayer.? Beneath his gruff demeanor was a big heart with a lot of kindness. He would not want it known, but he searched out individuals and situations in which he could help others, and performed many acts of kindness anonymously.
When Gene died at age 77 on September 22, 2020, from complications due to COVID-19, he left a giant void in his family and this community. His family decided to honor his legacy by establishing the Arthur Gene Mayer Memorial Scholarship Fund at the Scott County Community Foundation. Any graduating senior in Scott County is eligible to apply, to include those from Austin and Scottsburg high schools, Grace Christian Academy, and homeschool students. Students are asked to submit a separate essay on their work ethic.
?We established this scholarship fund so that individuals with characteristics similar to Dad could benefit,? said Christy. ?My father valued education even though he didn?t have the opportunity to pursue his because of his upbringing. He promoted the importance of a good education to his children and his grandchildren. He loved seeing others succeed as well as respected those willing to work hard to get what they wanted in life. He loved watching his grandsons compete in sports because he saw the work they put in and the results from that work, so I know that he would like that we made this a part of the criteria for the recipients. I know that he would love that part of his hard work is being gifted to support young men and women who are driven and will go on to be successful citizens.?
The first scholarship, worth $800, was awarded to Scottsburg High School graduate Jameson Hale this past May. Jameson is attending Indiana University to major in business administration. The Arthur Gene Mayer Memorial Scholarship is just one way that the impact Gene left on others during his lifetime will be carried on for many students for generations to come.
To donate in Gene?s memory, you may send a contribution to the Scott County Community Foundation; PO Box 25; Scottsburg, IN 47170. You may also drop off donations at 60 N. Main St., Scottsburg.