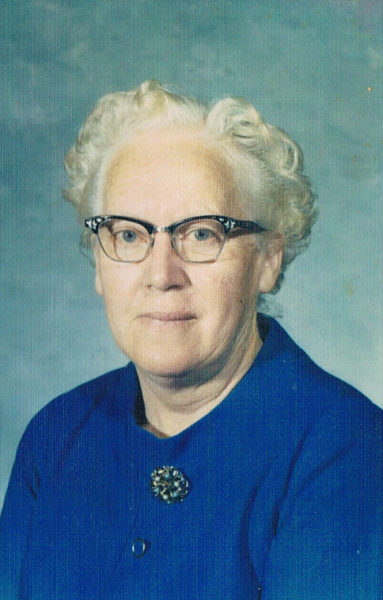 A teacher?s legacy will live on through a new endowment fund established at the Scott County Community Foundation. The Gladys A. Berna Education Fund will provide support for students in both Scott County school districts.
Gladys A. Berna was a teacher in Scott County for 38 years from 1937 until 1975.? She taught both at Finley Elementary, and at many of the one-room schools within Finley Township.? She taught kindergarten through eighth grade.? Her students were comprised of many rural kids in Scott County, to include friends, her brothers and sisters, her own children and even her grandchildren.
Miss Gladys, as her students called her, taught at a time when teachers filled many roles.? She was the bus driver ? taking students to and from school.? She was the custodian ? building the fire to keep the room warm and cleaning the schoolhouse.? She was the nurse ? helping kids treat everything from colds to head lice.? She was the cook ? bringing soup for kids who didn?t have any lunch.
Most of the time Miss Gladys would use her own money to buy supplies for the school.? She always took special care of those students who didn?t have as much as others.? She would buy them clothes and school supplies.? Sometimes she even took them to the doctor when their parents were unable.
In the classroom, she taught more than just the ABC?s.? Miss Gladys always included character lessons.? She repeatedly told students that she had only two rules: ?Behave Yourself, and Get Your Lessons.?? She didn?t like drama on the playground, and required that recess was filled with activities.? She organized many games of softball, and drafted even the smallest child to play.
This fund was established to honor the legacy of Miss Gladys.? It will be available to any educator at Scott County School Districts 1 and 2.? The application process is intended to be simple.? The money should be used to help students whether through a small classroom project or a field trip.? It could be used to help students in any way that will further their education, while taking some of the burden off teachers.
Please consider helping this fund grow with your donation today.? You will be contributing to something that will nurture and enrich the children of Scott County.? You will be helping the next generation of teachers and students to fulfill what Miss Gladys started so long ago.? Contact the Scott County Community Foundation at 812-752-2057 to pledge your tax-deductible contribution, or mail directly to the Scott County Community Foundation, P.O. Box 25, Scottsburg, IN 47170. You may call 812-752-2057 with any questions.