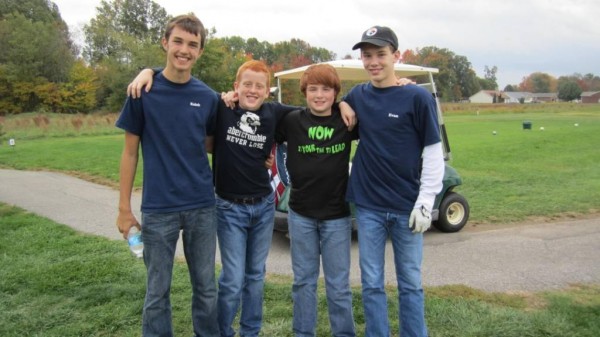 Just over $1,000 was raised by the Scott County Youth Grantmaking Council (?YGC?) at their second annual golf scramble fundraiser held Oct. 14 at Westwood Golf Course.
The team of Charlie Bulington, Dennis Reeves, Pam Cross and Todd Hall came in first place and received a certificate for a golf outing at Shadowood Golf Course.
?A special thanks goes to Dave and Bonnie Church for allowing us to have this golf scramble at Westwood, and for everything they have done to benefit the YGC,? said Luke Taylor, a member of the YGC and organizer of the event. ?Another thanks to all the players and hole sponsors that make us do what we do best.?
Hole sponsors included Morgan Foods, Scott County State Bank, Martin Insurance Agency and Janet Johnson. Through the generosity of Dave and Bonnie Church, all youth ages 18 and younger played for free, and adults only paid $20. This is just one of several fundraisers the YGC hosts throughout the year to support their mission of providing youth a voice through philanthropy.
The Scott County Youth Grantmaking Council is comprised of 31 youth from throughout Scott County, in grades five through 12. Their goals are to provide leadership development, positive peer support, learn about philanthropy and serving the community, form a partnership with other youth and adults, and grow their endowment fund for the future.
Facebook users can view photos on the Scott County Youth Grantmaking Council?s page, www.facebook.com/ScottCountyYGC.