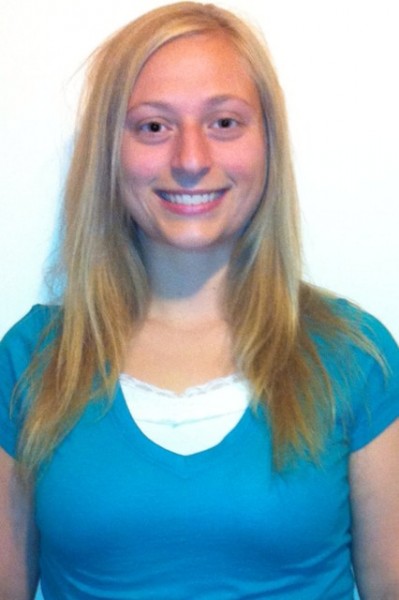 A grant from the Lilly Endowment has provided the opportunity for the Scott County Community Foundation to hire a new intern to help with educational programs in the community. Alexandra Brown is working as the Educational Programs Coordinator, where her duties involve assisting the schools, community boards and committees with educational programs. She will help with career field trips, Reality Store, teaching life skills, 21st Century Scholar registrations and more for the 2012-2013 school year.
Alexandra Brown is a senior at Indiana University Southeast. She is majoring in sociology, minoring in Spanish and will graduate in May 2013. She is a member of the Sociology Club. She has presented her research at the Indiana University Southeast Student Conference and is currently working on publishing her material in the Indiana University Undergraduate Research Journal. She also works part-time at Indiana University Southeast?s Applied Research andEducationCenteras a research assistant. After graduation, Alexandra hopes to start her career and eventually earn a master?s degree.
Alexandra graduated fromSilverCreekHigh Schoolin 2009 with an Academic Honors Diploma. She was an active member of the Christian Sportsman Fellowship and the Spirit Club. Alexandra enjoyed writing for the school newspaper as well. She was a member of the National Honor Society her junior and senior year.
Alexandra is the oldest of four children. She is a resident of Sellersburg, where she was born and raised. She enjoys spending time with her friends and family, reading, swimming, and taking walks.
?I am very excited about working with the Scott County Community Foundation and Scottsburg Middle School,? said Alexandra. ?I am grateful to have the opportunity to learn and apply new skills. I look forward to learning new things, meeting new people, and giving back to the community.?
The Community Foundation Internships (CFI) program is part of Lilly?s goals to help build healthy Indiana community foundations and to provide college students with real-life work experiences.
?Having Ali work in the schools will be a huge benefit to students and our community,? said Executive Director Jaime Toppe. ?We are pleased to be able to provide this opportunity, through Lilly?s generosity, to support education in Scott County. Through meaningful internships, we hope our interns will continue their desire to be involved in serving their communities after graduation.?
For more information on the Scott County Community Foundation, please call 752-2057, email info@www.scottcountyfoundation.org, visit the website at www.www.scottcountyfoundation.org or stop in the office at 60 N. Main St., Scottsburg.