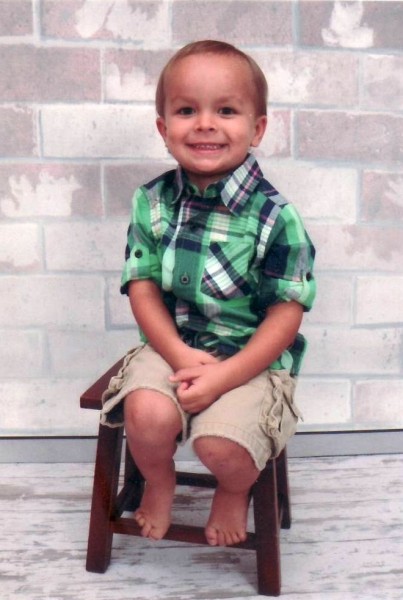 ?Jayce Ray Stallings loved being with his mom?s basketball team, at the baseball diamond, and on vacation with his family. He enjoyed John Deere tractors and was loved by everyone who met him. The son of Julian and Ashley (Peacock) Stallings and brother of Madalyn, he had attended Wesley Chapel United Methodist Church in Austin.
?Jayce was just three years old when he tragically died in a drowning accident this past summer. His family is determined to keep his memory alive, and have established the Jayce Ray Stallings Memorial Fund at the Scott County Community Foundation. The scholarship, worth $1,000, will be awarded to a graduating Austin High School senior girl who played basketball. Jayce?s mom, Ashley, coaches the team, and Jayce was a constant presence during practices and games.
?Yes, it?s a privilege because it?s money that?s going to help pay for our future, but it also gives Jayce an opportunity to be in our future in a way because it?s all for him,? said senior Megan Smith.
The family has been working hard on fundraisers, including a successful softball tournament, to build the scholarship. The first award will be given this May.
?While our hearts break for the Stallings family, this is a meaningful way for them to honor Jayce,? said Community Foundation Executive Director Jaime Toppe. ?I know the community has been extremely supportive through prayers, along with helping raise the funds for these scholarships. Giving out money each year in memory of Jayce will allow the community to always remember this beautiful boy.?
If you would like to donate to the Jayce Ray Stallings Memorial Fund, you may send your tax-deductible contribution to the Scott County Community Foundation at PO Box 25; Scottsburg, IN 47170. For more information, call 752-2057 or email info@www.scottcountyfoundation.org.
???????????????