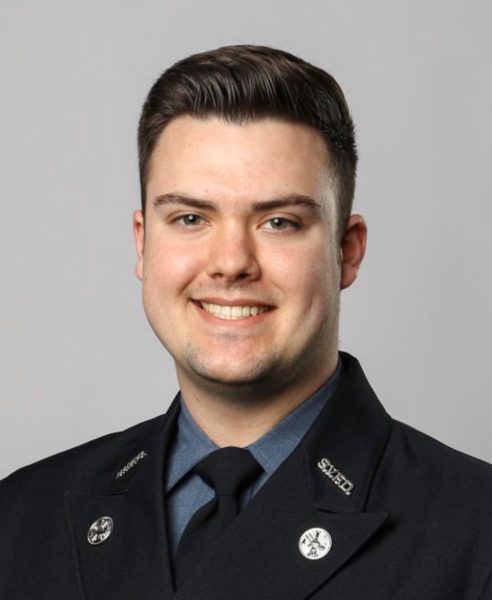 Eleven years ago as an eighth grade student at Scottsburg Middle School, Kevin Jentzen joined the Scott County Youth Grantmaking Council, a program of the Scott County Community Foundation. With a purpose of nurturing young philanthropists and encouraging youth to continue their community service beyond high school, those goals are being realized as the YGC alumnus has now joined the Foundation?s Board of Directors. The Community Foundation is a charitable organization that enables donors to support the community through scholarships and grants from endowment funds.
Kevin is the son of Henry and Ann Jentzen of Scottsburg, and the brother of Kelly Thompson. His dad was a former board member for the Community Foundation, and his mom works in accounting. Kevin graduated from Scottsburg High School in 2014, where he served as Class Secretary. He graduated from IUPUI in 2018 with a major in information systems. Kevin served on the Foundation?s grants committee as a college student, volunteering since 2015.
Kevin has been employed as an IT administrative assistant at the City of Scottsburg since June 2018. He has also owned Light It Up Inc. since March 2016. Kevin is a 12-year member (and 4-year secretary) for Scottsburg Fire and Rescue, and a member of the Scottsburg FFA Advisory Board. He enjoys spending time with friends and family, and being outdoors.
?I joined the Board because I believe in the mission of the Community Foundation,? said Kevin. ?I have loved being a past Youth Grantmaking Council member and SCCF Grants Committee member. To see needs in our community being met by projects at SCCF is amazing. I look forward to working with the Board to keep up the standard set in previous years for SCCF to help Scott County.?
?I am so excited that the youth who were members of the YGC are carrying on their passion for giving back to the communities wherever they live,? said Foundation Executive Director Jaime Toppe. ?With several former YGC members returning to Scott County, we hope the community will join us in engaging them in service. They bring a great perspective and fresh ideas. Kevin is a great addition to our Board and has a deep knowledge of the community that will be very helpful in our efforts.?