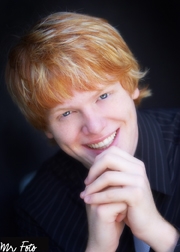 Hello!
My name is Aaron Paul Wilson and I am a graduate of Austin High School in Austin, Indiana.? I truly believe that hard work pays off and if you keep your mind straight and focused, and your heart focused on what is right, then you have succeeded.? I hope to prove to others by my actions and not by words alone, that it is not what you do that defines you, but rather how you do it.? Before I get too far into this story, let me tell you about how this came to be.
Throughout my high school career I worked hard, pushing my self to be in many organizations, volunteer throughout the community, and worked hard at McDonalds in Scottsburg.? Throughout these years in Austin, I met many warm hearted people that helped shape my view on the world and its' people.? This is not something you find in a big city in the United States.? Many people who have grown up in small towns know how great it is to be from a small town.? In these towns, you have more of a chance to get to know the people you live around.? You see kindness in people?s eyes, walking down the street, the ones that stop to open the doors for others or return the wallet that was found in the Wal-Mart parking lot.? You have many people in this town, educators like Beverly Bagwell, who go beyond what she is paid to do.? She pushes the students in her classes and outside the classes too.? You see her in church, where she is wise enough to push you into doing what she believes is right and what you may be too ignorant to know at the time.? You see countless of these types of people in our town that want to make a difference. Jan Hieb and Anita Petty from McDonalds taught me a lot about life, about being mature, and about how to succeed in small business, something that cannot be taught with a university degree. ?Mary Pendergrass gave me my first taste of the world and excited my soul in the wonders of the world.? She loved what she taught and I found what she taught to be amazingly wonderful.? The ability to communicate in another language opened up so many more opportunities for oneself and it fascinated me to imagine what was beyond our borders.? And others from my local church to groups I volunteered with taught me how compassion is one of the most important characteristics you should never lose as you make your life journey.? In high school, I was awarded with a great and honorable scholarship through the Lilly Endowment and our local Community Foundation.? After many months of waiting and years of hard work, I was chosen to be Austin's Lilly Scholarship Award recipient.? Everyday I cannot tell you how thankful I am for this scholarship and the opportunities it has afforded me throughout my life thus far.??
This scholarship led me on my first journey away from my parents and out of this town to the University of Evansville.? It was an exciting day to leave (as any teenager leaving home would tell you), but it would be an even more exciting four years.? My first stop on college parkway was to join a fraternity, Sigma Alpha Epsilon.? I know many people have these negative views of fraternities, but what some don't realize is fraternities are just like our small towns.? My fraternity's motto is as follows:
The True Gentleman
The True Gentleman is the man whose conduct proceeds
from good will and an acute sense of propriety
and whose self-control is equal to all emergencies;
who does not make the poor man conscious of his poverty,
the obscure man of his obscurity,
or any man of his inferiority or deformity;
who is himself humbled if necessity compels him to humble another;
who does not flatter wealth,
cringe before power,
or boast of his own possessions or achievements;
who speaks with frankness but always with sincerity and sympathy;
whose deed follows his word;
who thinks of the rights and feelings of others rather than his own;
and who appears well in any company;
a man with whom honor is sacred and virtue safe.
This speaks more for itself than I ever could.? My fraternity comprised of a group of guys that pushed each other.? Pushed each other to work harder, to do more, and to be a better man.? We worked for each other, and with each other.? When grades began to fall, we were there to kick each other around then provide that helping hand to pull each other up and guide each other through whatever obstacle was there (our fraternity's GPA was higher than UE's all male average).? We volunteered our time around Evansville and help leave a lasting impact on our University community, just like I volunteered around Scott County.? And our fraternity pushed us to be involved in campus groups, just as I was involved in groups around Scott County.? This fraternity became my community, my family, and my support throughout college.?
While in college, I met many mentors that guided me along the journey, just like I had had in Austin.? One of these people, Wesley Milner, encouraged me and made my college experience unforgettable, unimaginable, and unrealistic.? When I was just a scraggly freshman, unsure of myself, he challenged me in classes, pushing me to find what I truly believed in without pushing his own views on me.? He asked vague questions that made you think, not only about your school work, but about the kind of person you wanted to be and what was should be done in the world.? He encouraged me to study abroad, and not in the traditional places in Europe, but to explore.? I knew before college that I wanted to go to Europe, but Dr. Wes Milner poked and prodded my interests until I went on a summer trip to China, which eventually led to a four month trip with Semester at Sea.?
"What?! You mean you lived on a ship, like the Suite Life of Zack and Cody!"? Well, yes and no.? See this trip wasn't a cruise ship (although it did have a pool large enough to fit about 8-10 people).? However it was a learning institution, filled with great minds like Dr. Milner who wanted to travel the world, meet its people, and explore.? This, by far, was the most eye opening trip of my college experience.? Here, I was able to truly learn the meaning of empathy, and to look at how others in the world have it compared to my situation.? I also learnt what it is to truly travel.? What most people don't realize when they travel is, the world is not about important monuments or buildings or great walls; rather it is about the people in the world and their perceptions on the world.? Now when I travel, I will never go to just see the Great Wall, but rather enjoy the taxi ride and the conversation with the driver.? I will not go to France for the Eiffel Tower, but rather go to the caf? and have a glass of wine with the French.? I won't go to India to see the Taj Mahal, but rather walk around the park and sit on the bench to chat with the Indian guy having a rest.? Travel is not about buildings or things, but rather about people, just as life is not about accomplishments, but rather the people you meet and the people you leave behind.
This brings me up to my current adventure: China.? One week after I graduated university, I packed up and came to China.? I wanted to learn Mandarin and be fluent.? How am I doing? ???????????????Well, pretty darn good!? Sometimes, people ask me if I've grown up in China, which makes me proud that my Chinese is that clear and understandable.? I really want to be able to speak Chinese and (in the long-term) hope to either return to my studies or seek a job with the US government.? In the meantime, with my skills I learned from growing up in a small town, working in a small business, and through the experiences I have had in university, I am managing two schools in Shenyang, China.? These schools teach English to children, and I am very proud at how successful and fast it has grown.? The team of teachers I have built here is great (and also includes Stephen Riley, Austin Class of '08, Hanover Class of '12, and Austin's 2008 Lilly Scholarship recipient!), and without them, we wouldn't be where we are today.? They are like my family here and I appreciate every one of them.
Being from Scott County helped shape my character by the great people I was surrounded with, while my University and my fraternity helped shape me into a man, showing me that no matter who you are or what others think about you, that there are always people around you that will support and love you no matter what.? Being true to yourself, and being a true gentleman, should go hand-in-hand.? Semester at Sea taught me about love, compassion, and empathy.? I wouldn't be who I am without the warm-hearted wonderful people I met in Scott County and wouldn't have the sense of giving back were it not for where I grew up.? I hope my actions throughout life and the future will continue to reflect the person I want to be.?
My advice to all those out there reading my story:? remain true to yourself, strive to be the perfect gentleman (or lady), work hard, but remember the people around you.? Let your compassion, kindness, and empathy show through your eyes and keep an open mind.? Don't be afraid and always go for it, no matter your fears.? Just live life's journey and don't ever forget to appreciate those that have shaped you into the person you are today.
Thank you all,
Aaron Paul Wilson