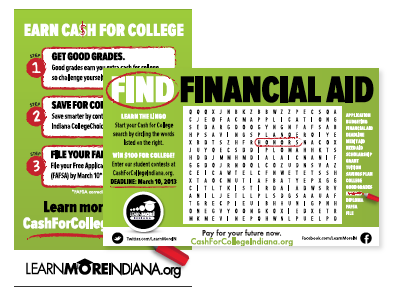 Looking for cash for college? The Free Application for Federal Student Aid (FAFSA) is your ticket to college financial aid. You must complete and file the FAFSA on time to qualify for financial aid from the federal government, the State of Indiana and from the college you plan to attend.
Students are required to submit a FAFSA every year, no matter if you are a senior about to graduate from high school, or an adult who has been working toward a degree. You should file the FAFSA even if you?re not sure if you will enroll in school, so you don?t lose scholarships and other financial aid if you change your mind mid-year.
After filing your FAFSA, your college will be able to tell you which scholarships and grants you could receive as well as how much money you can borrow in federal loans.? In order to receive state financial aid, you must file the FAFSA by March 10.
Our local school districts will host FAFSA completion nights at the high schools. Students and their parents/guardians are invited to attend a session at the Austin High School library on Wednesday, February 19, and at the Scottsburg High School Library on Tuesday, February 25. ?Both events will begin at 6:30 p.m. Representatives from Hanover College and Indiana University Southeast will be on-hand to help with any questions.
Students should bring their FAFSA pin numbers ?(found at www.pin.ed.gov) and all tax information, including your social security number, driver?s license number if you have one, as well as the most recent federal tax returns for you and your parents. Students should RSVP to Guidance at their school if they plan to attend.
For more information on college costs, exploring Indiana colleges, where to find money to attend and much more, visit www.indianacollegecosts.org. You can also visit the Scott County Community Foundation?s website at www.www.scottcountyfoundation.org. Click on Scholarship Resources from the Scholarships and Grants menu to find direct links to available resources.