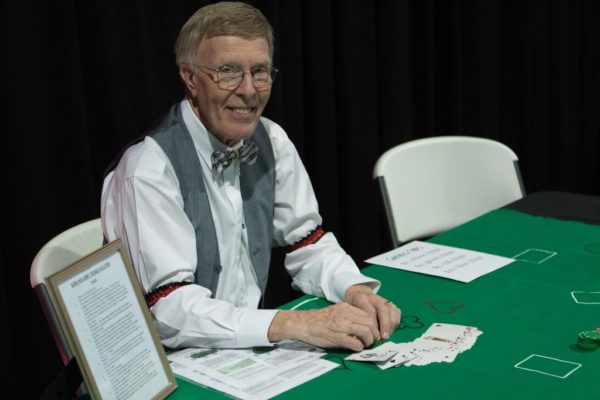 Join the Scott County Community Foundation in a mask or your Mardi Gras best for their second annual casino night fundraiser. This year?s theme is Mardi Gras Masquerade. Those looking for a fun evening can enjoy this unique experience locally while helping to raise money for a great cause. This special fun-filled event will be held Saturday, March 3 from 6 until 10 p.m. at Mid-America Science Park, Scottsburg.
The night?s entertainment will again feature Small Time Napoleon, a jazz band from Louisville. ?To round out the entertainment, there will be bingo, blackjack and poker. The Community Foundation has obtained a state charitable gaming license for the event, so winners may take away cash.
A silent auction will be held, with some of the items Walt Disney World Park Hopper passes, Belle of Louisville sightseeing cruise, Holiday World & Splashin? Safari tickets, Derby Dinner Playhouse tickets and much more.
Dinner will be catered by Country Classics. The menu will feature New Orleans-style food, including beignets, crab dip, shrimp cocktail, muffaletta salad, shrimp gumbo, bourbon pecan chicken, Mardi Gras King Cake and bourbon bread pudding . Mardi Gras cocktails will be served along with current favorites at the Bourbon Street Bar.
The event?s Carnival Court sponsors include Blue & Co. and Duke Energy. The Krews and Throws level sponsor is Scott County School District 2. Sponsors are still needed to help ensure a successful event. To get a list of sponsorship levels and benefits, you may contact the Scott County Community Foundation at 812-752-2057 or email info@www.scottcountyfoundation.org.
Mardi Gras attire is encouraged but not required. Tickets are $20 per person, with RSVP?s due by Friday, Feb. 23. Tickets will increase to $25 after Feb. 23. You may RSVP by using the contact information listed above or stopping in the office at 60 N. Main St., Scottsburg.
A community foundation helps build and strengthen the community by bringing together people and organizations that want to make a difference. The Scott County Community Foundation (?SCCF?) was incorporated on Dec. 12, 1996, and has since distributed over $11 million in scholarships and grants. SCCF currently manages assets over $9 million through 90 endowment funds. These funds support youth and education, arts and historic preservation, health and human services, the environment and our community.