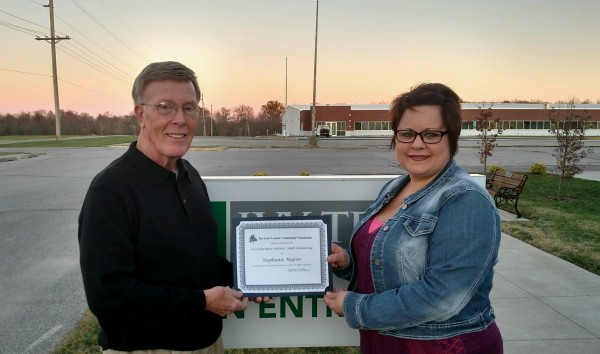 Shown are Scott County Community Foundation Board Chairman L.L. Lowry and scholarship recipient Stephanie Napier.
Stephanie Napier, a Scottsburg resident, was announced as a recipient of a scholarship worth $1,000 from the Scott County Community Foundation. Napier is attending Ivy Tech Community College, where she is majoring in nursing. The scholarship was made available to adult students and is made possible through the Education Matters Southern Indiana (EMSI) initiative. EMSI is a program of the community foundations in Scott, Clark, Floyd, Harrison and Washington counties and seeks to increase the educational attainment of adults with some form of post-secondary education but no degree or certification.
?Adult scholarships are much more difficult to attain in contrast to students entering their freshman year of college,? said L.L. Lowry, board chairman of the Scott County Community Foundation. ?No matter what the age, attending college requires some financial assistance. Many adults seeking better careers or opportunities through their current employer may find that completing their certification or degree will allow them to achieve their goals.?
Stephanie Napier is a public health nurse at the Clark County Health Department. While she holds her licensed practical nurse diploma, she is continuing her education in the hopes of becoming a registered nurse.
?This is a true encouragement!? said Napier, upon receiving her scholarship. ?I can?t say that furthering my education has been an easy journey. I always depended on my dad?s words of encouragement when it came to my education. No matter what obstacles get in your way, climb over them and show them who the true boss really is.?
If you are an adult hoping to return to school to complete your education, you may find resources with the Education Matters Southern Indiana initiative. Please visit www.EducationMattersSI.org or call (812) 625-7501.