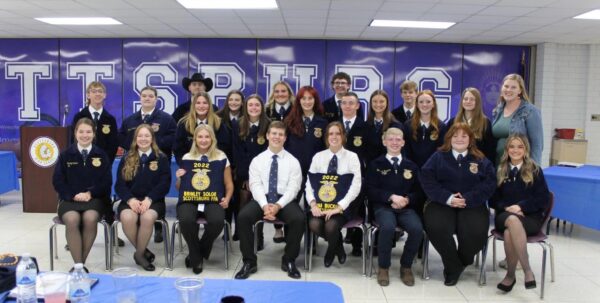 A local student organization will now benefit financially from a new endowment fund established at the Scott County Community Foundation to support agriculture.
The Scottsburg FFA Chapter was chartered in 1946. It is a part of the National FFA organization, formally known as Future Farmers of America, which was established less than 20 years before in 1928. The student-lead organization provides numerous leadership development opportunities, according to FFA advisor Anna Hall, who was also a member of FFA while a student at Scottsburg High School.
?FFA was founded in agriculture to prepare members to become farmers,? shared Hall. She explained that the organization shifted its focus to science and leadership, while still staying true to its rich history in agriculture. ?FFA has grown into the largest youth organization in the nation, which provides endless opportunities for students to learn more about the science of agriculture and develop lifelong leadership skills.?
The local chapter has 50 active members. Members participate in many different leadership development activities and career development contests at the local and state level. The chapter is also involved in many local community service projects, such as hosting a mini petting zoo for nursing home residents. In the past, members have served in district, section, and state leadership positions. Members also regularly attend state and national conventions and state leadership conferences.
?In order to participate in FFA, students must be enrolled in an agricultural education class in high school,? shared Hall, who is also a teacher at Scottsburg High School. She shared that there are over 100 students enrolled in agricultural education at SHS. A wide range of courses are offered, to include Principles of Agriculture, Animal Science, Plant and Soil Science, Agribusiness Management and Supervised Agricultural Experience. FFA members apply the technical agricultural knowledge they learn in their agricultural classes to many of the career development contests and events that the chapter participates in.
Local residents are very familiar with Scottsburg FFA?s annual Ag Day breakfast held in the spring. Guests enjoy a delicious breakfast and only pay 50 cents, which represents how much the farmer would actually receive from the cost of a regularly-paid breakfast. Visitors to various events such as the Scott County Fair, Leota Frolic and Scott County Farmers? Market have also enjoyed food prepared by FFA members.
Many FFA members also help in the high school?s greenhouse, which is operated by the students in the Plant and Soil classes. The community is invited to purchase plants, herbs, and produce in the spring. Income from the greenhouse is used to provide supplies for the agricultural classes. FFA engages younger students as well, whether it is through tractor pulls at the Lexington Old Settlers Festival or farm tours for elementary students.
The Scottsburg FFA will now get a boost to support students through a new endowment fund created by former members of the Scott County Cornhuskers Young Farmers Chapter. The Young Farmers Coalition is a nationwide organization that has chapters in each state. Locally, a group of 18 young adults established a chapter in 1975, calling themselves the Scott County Cornhuskers. They would meet monthly in members? homes where they would enjoy a meal and speakers on various topics, such as the feeding methods of cattle and hogs, and corn drying and handling. They took over hosting the annual Ag Day breakfast from the Scott County State Bank. The members completed community service projects a couple times each year. They held an adult tractor pull at the grandstands at the Scott County Fair. They even hosted the state convention in Scott County one year.
According to a newspaper article written when the club was formed, chapter reporter Judy Turley shared that the organization would help develop leadership qualities needed to pursue ?desirable activities of rural living.? The chapter?s advisor was John Marcum. As members aged and started families of their own, the local chapter disbanded in the late 1990?s. There is still one statewide chapter in existence, the Hoosier Young Farmers Coalition.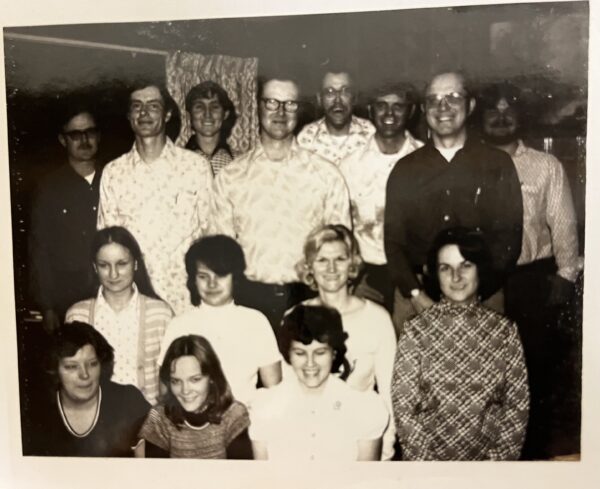 Founding members of Scott County Cornhuskers Young Farmers
(L-R), first row: Joann Smith, Libby Richardson, Doris Marcum
Second row: Becky Evans, Sheila McNeely, Linda Hunley, Peggy Craig
Third row: Phil Turley, Darrell Evans, Rick Richardson, Larry McNeely, Joe Smith, John Marcum, Larry Craig, Kenny Brown
Not pictured: Judy Turley, Gloria Brown, Everitt Hunley
Danny and Sue Smith joined later in the year
One of the Cornhuskers? secondary goals was to support the FFA. Members recently agreed to close an account and donate the proceeds to the Scott County Community Foundation for the benefit of FFA students. The Cornhuskers-FFA Agricultural Fund will provide grants to Scottsburg FFA each year to support their mission. As a permanent endowment fund, all donations are invested, and only a portion of the earnings are awarded in grants each year. This allows the fund to benefit the community for generations to come.
?We are incredibly grateful to the members of the Cornhuskers who have chosen to create this fund to benefit our FFA chapter,? said Hall. ??We are looking forward to using this fund to provide new opportunities for our members. Our chapter is blessed with many longtime supporters and we cannot express enough how thankful we are for their continued support.?
Hall also shared that the pedal tractor pull that they offer at Lexington Old Settlers Festival was actually started by the Cornhuskers at the county fair. The FFA members took it over when the Cornhuskers disbanded, and students use their tractors and sled.
?Our group was started as continuing education after high school,? shared Larry McNeely, a founding member of the Cornhuskers who also helped create the endowment fund at the Community Foundation. ?We?re very proud to keep helping FFA ? it?s such a learning experience. Most kids who are in FFA won?t go into productive farming but there are so many related jobs that this will help them in the future, whether it?s working for an electronics dealer, chemical company, lending institution and more. Companies know that the kids who went through FFA have a good background and work ethic.?
?The purpose of this money is to support FFA and agriculture in Scott County,? added Dan Smith, another early member of the Cornhuskers. ?If we don?t support FFA, we?ll lose the program. Some of the larger schools no longer have FFA. They also learn other skills, such as leadership. We need to look to the future.?
?We are thankful to the group of thoughtful people who have the desire to invest long-term in the future of FFA students,? said Scott County Community Foundation Executive Director Jaime Toppe. ?Agriculture is a very important part of Scott County, and we are honored to have another fund created to support this area. I encourage those in the community who have a passion for agriculture and FFA to consider growing the Cornhuskers-FFA Agricultural Fund with a donation.?
If you would like to make a donation to this fund, you may mail to the Scott County Community Foundation; PO Box 25; Scottsburg, IN 47170. You can also stop in the office at 60 N. Main St., Scottsburg. Donations can also be made online at www.scottcountyfoundation.org.