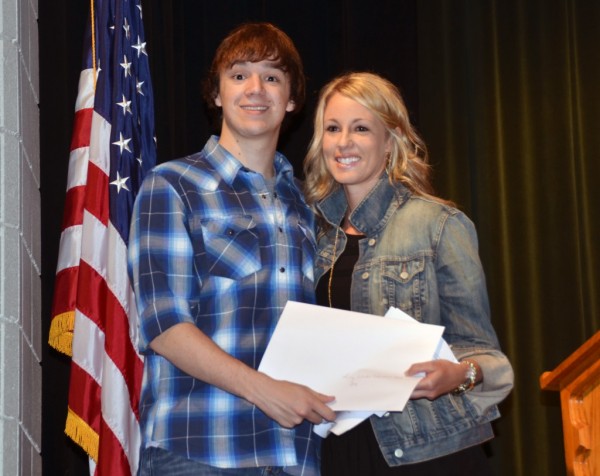 Several high school seniors were recently awarded scholarships through the Scott County Community Foundation. The recipients were honored at awards ceremonies at their high schools.
The Alice and Gerald Miner Memorial Scholarship was established by the couple?s children, Mike and Ron, before Ron?s death several years ago. Gerald Miner?s father donated 40 acres of land to Hanover College during the Great Depression in exchange for two years? worth of tuition, books, room and board so that Gerald could attend college. Alice and Gerald?s sons wanted to help Scottsburg High School graduates continue their education in college. Christopher Davis of Scottsburg High School received $4,000 to attend Indiana State University. Davis, the son of Carrie Innie of Scottsburg, will major in athletic training.
Dave and Bonnie Church established the Bonnie Church Scholarship to provide opportunities for learning. They awarded two scholarships for $1,325 each. Bradley Clem and Justin Wright of Scottsburg High School were named the recipients. Clem, the son of John Clem of Scottsburg, plans to attend Campbellsville University to major in Spanish. Wright is the son of Lisa Pryor and Richard Wright. He plans to major in political science at IUPUI.
Charles Nolan was a math, computer and photography teacher at Ivy Tech in Sellersburg, a retired middle/high school teacher in Austin, a former GED instructor for New Albany/Floyd County School Corp. in Scottsburg, and the former owner of Loaves and Fishes Christian Bookstore in Scottsburg. The Charles G. Nolan Memorial Scholarship Fund is for Scott County graduating seniors who will major in math, engineering or a science-related field. Stephanie Valencia of Scottsburg High School received $500 to attend Indiana University. Valencia plans to major in biology.
Christie Crafton was a vibrant, dedicated teacher who touched the lives of many young people. She continued teaching day after day right through chemotherapy, right through cancer, until she passed away at the age of 42. Her family established the Christie Crafton Memorial Scholarship to carry on her legacy. The scholarship is awarded to graduates of Scottsburg High School who plan on pursuing a degree in education or a profession that serves children. Kelsie Collins of Scottsburg High School received $500 to attend Taylor University. Collins, the daughter of Kevin and Kim Collins of Scottsburg, plans to major in art therapy.
The Dale McNeely Scholarship Fund was established through a bequest from the Martha McNeely estate. The McNeelys were both educators, and Martha was assistant superintendent for Scott County School District 2 for a few years. The McNeelys were passionate about education and children, and their commitment to students lives on through the scholarship fund. Hayley Love of Scottsburg High School received $10,000 to attend Indiana University Southeast. Love, the daughter of Jennifer Hackett of Scottsburg, will major in nursing. A second scholarship worth $8,000 was awarded to Katie Conder. Conder, the daughter of John and Lorna Conder of Underwood, plans to attend Butler University to major in pharmacy.
The Epply Shields Memorial Scholarship Fund was created to provide assistance to Scottsburg High School students who plan on majoring in elementary or secondary education. Taylor Mullins of Scottsburg High School received $4,000 to attend Hanover College. Mullins, the son of Patricia Mullins of Scottsburg, plans to major in secondary education/science.
The Greater Scott County Chamber of Commerce and its members are committed to educational initiatives that serve youth in Scott County. Some of these programs include Dollars and Sense and Character Counts. Through the generosity of its members, the Chamber is also able to award two scholarships each year to help students with their pursuit of higher education. These scholarships are awarded to either Scottsburg or Austin High School graduates and/or an adult currently in school. Nicole Walker of Scottsburg High School received $500 to attend Butler University. Walker is the daughter of Lori Walker of Scottsburg. Jesse Satterwhite of Austin High School received $500 to attend IUPUI. Satterwhite, the son of Delmar and Celesta Satterwhite of Austin, plans to major in computer engineering.
The Lilly Scholar Endowment Fund was created in 2006 after the Scott County Community Foundation challenged its Lilly Scholars to find a way to give back to the community through their time, talent and treasure. They responded by establishing a fund, which has grown over the last several years. This year is the third year a scholarship has been awarded, and the criteria and selection process was handled completely by past Lilly Scholars. Jesse Satterwhite and Hayley Love each received $575.
The Mary Elizabeth-Virgil S. Miller Memorial Scholarship was established through a bequest from the estate of Mary Elizabeth Miller. Virgil Miller had taught at Austin High School, and was Scott County Superintendent. He was also the first person to start special education classes in Lexington. Mary established the scholarship in her estate plan as a way to honor her husband. Justin Wright and Jesse Satterwhite both received $2,000 each.
The Robert G. Comer Memorial Scholarship was established for high school seniors whose lives were shaped by agriculture and farming, much like Bob?s own life was, and who plan to continue to grow themselves as they pursue a college degree of their own. Ethan McNeely of Scottsburg High School received $500. McNeely is the son of John Scott McNeely and Peggy Lou Bridge. He plans to major in agricultural economics at Purdue University after serving a year as a state FFA officer.
The Scott Memorial Hospital Guild Brunton-Mumford Scholarship was established from the Martha Jane Brunton Fleenor estate. The purpose is to assist students who wish to major in the medical field. Jared Taylor and Shelby Amburgey, both of Scottsburg High School, each will receive up to $5,000. Taylor, the son of Cindy Taylor of Scottsburg, plans to attend Indiana University Southeast to major in the healthcare field. Amburgey, the daughter of Jennifer and Michael Amburgey of Scottsburg, plans to attend IUPUI to major in forensic or exercise science.
Shelley Akers was a young wife and mother whose life was cut tragically short in a tractor accident. Shelley was the office manager for Purdue Extension, and was very involved in 4-H and the community. Scholarship applicants for the Shelley Comer Akers Memorial Scholarship were asked to submit an essay on how they?ve been able to put the 4 H?s in 4H to good use in their life. Ethan McNeely received $500.
Timothy Michael Wolf was a student at Scottsburg High School, where he was a medalist on the golf team and played trombone for the Band of Warriors. He was diagnosed with leukemia just short of his 14th birthday, and after three years of battling the effects of treatment, Tim went to be with the Lord. Before he passed away, he spoke with his dad about establishing a scholarship fund. Tim loved school and looked forward to his college experience, and his family has said he would be happy to know he has helped others achieve their dreams. Kelsie Collins received $5,000.
To donate to any current scholarship funds or to establish your own scholarship fund, please contact the Scott County Community Foundation at 752-2057, email info@www.scottcountyfoundation.org or visit the office at 60 N. Main St., Scottsburg. You may also receive information by visiting www.www.scottcountyfoundation.org.