The Scott County Community Foundation is celebrating our 20th anniversary in 2017. Throughout the year, we will share stories from people who have been impacted by the efforts of our donors and volunteers.?Christa West, who serves as our vice chairman, shares her thoughts on the Foundation.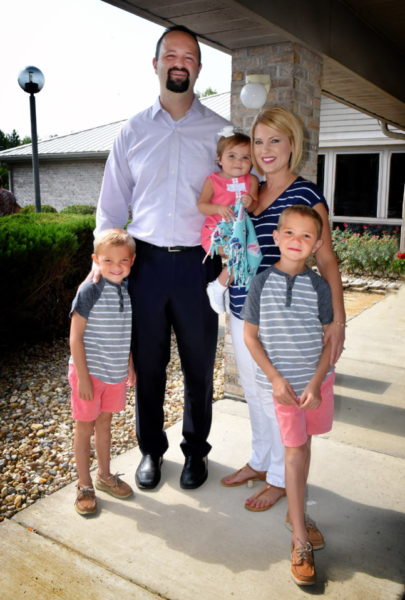 I became familiar with the Scott County Community Foundation through my husband, Evan.
In 2002, Evan was awarded the Lilly Endowment Scholarship, which paid for him to attend Butler University where he earned his doctorate in pharmacy. ?After graduating from pharmacy school, Evan returned to Scott County and is a pharmacist at Hancock?s Drug Store in Scottsburg.? He and I were married in 2008.? We have always lived in Scottsburg and are now raising our three children here.? Returning to Scott County to live and work was one way Evan wanted to give back to the Foundation for the opportunities being a Lilly Scholar gave him.
Evan can be quiet, but he has always been very vocal about his support of the Foundation!? A few years ago, I was working as an attorney for the Indiana Department of Child Services in Scott County.?? I have lived in Scott County my entire life, but was completely shocked to see how many children are victims of child abuse and neglect.? ?Consequently, I wanted to do something to bring awareness and resources to causes related to child welfare, but wasn?t sure how.? I told Evan about it and he suggested that I reach out to the Foundation and see if I could volunteer for a committee.? I got in touch with Jaime and joined the Grants Committee in 2013 and the Board of Directors in 2014.
I probably never told Evan this . . . but he was right! ??Becoming involved with the Foundation was the best way to help bring about positive change in our community.? When I joined the Grants Committee, I learned that the Foundation had already identified early childhood development as a primary focus area for grant making.? To that end, grants were awarded to Lexington Good Faith Preschool, the Austin Learning Center, and the Dolly Parton Imagination Library just to name a few.? In addition, the Foundation has supported the Scott County Court Appointed Special Advocate Program (CASA), which provides volunteer advocates to children who are involved in the legal system due to child abuse and neglect.? CASA is a cause very near and dear to my heart!? I am so proud of the Foundation?s commitment to keeping its finger on the pulse of Scott County to understand the needs and challenges facing the community.
Last year, Evan and I decided to start an Acorn Fund with the Foundation.? We both strongly believe that supporting the Foundation through planned giving is the absolute best way to invest in our community and teach our own children the importance of looking forward and giving back.? Happy 20th Anniversary, Scott County Community Foundation!