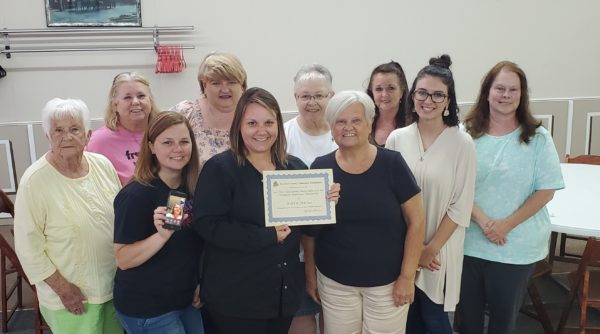 Karrie Gricius, third from left, was honored as a recipient of the Pilot Club Lifeline/Mary Allen and Jan Thompson Healthcare Scholarship Fund at a recent Pilot Club meeting. Karrie will receive $1,500 to assist with educational expenses at Capella University, where she is seeking a master?s degree in nursing. Karrie is employed at Baptist Health Floyd as the Life Safety and Orientation Coordinator/American Heart Association Training Center Coordinator. She resides in Scottsburg with her husband, John, and sons, Landon and Carter.
Mary Allen and Jan Thompson had discussed establishing a scholarship with the Pilot Club?s Lifeline program proceeds. Mary contacted the Scott County Community Foundation to express her desire to start a fund. When she unexpectedly passed away a short time later, the Pilot Club members decided to fulfill Mary and Jan?s wishes through establishing this permanent fund. The scholarship is available to adult students who are continuing their education in nursing, as well as those seeking to be a surgery tech, radiology tech, or respiratory therapist. This is the fourth year a scholarship has been awarded.
For more information or to donate to the fund, you may contact the Scott County Community Foundation at 812-752-2057, email info@www.scottcountyfoundation.org or stop in the office at 60 N. Main St., Scottsburg. You may also visit www.www.scottcountyfoundation.org.