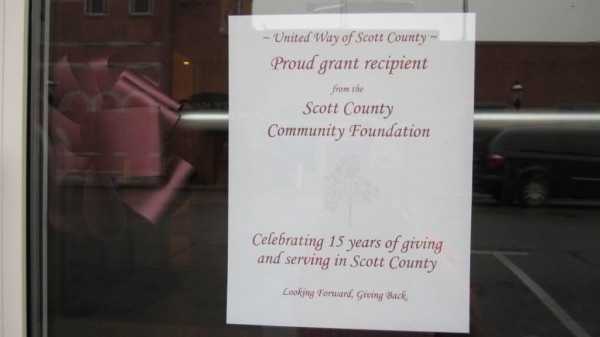 The Scott County Community Foundation is celebrating its 15-year anniversary in 2012, and will be hosting a ribbon campaign in October to highlight grant recipients.
Since the Foundation was established, $2.7 million in grants and scholarships have been awarded to the community. In addition, $8.4 million has been funneled to Scott County from Lilly Endowment through the Scott County Community Foundation. These grants have helped fund educational initiatives, the Lifelong Learning Center, the Scott County Community Clearinghouse, the Scott County Family YMCA, baseball facilities in Austin, Lexington and Scottsburg, improvements to local parks, historical markers and more.
?Over 70 organizations throughout the county have benefited from grants from the Foundation, and will proudly display a burgundy-colored ribbon during October. This ribbon represents not only what the organization has done for our community, but also shows the community?s appreciation for the many ways these nonprofits are enriching lives.
The Scott County Community Foundation will be highlighting these organizations throughout the month on its Facebook page, www.facebook.com/ScottCountyCommunityFoundation. Please stop and thank these organizations for their hard work, and share with others the great things they are doing for Scott County.
The Foundation?s yearlong celebration will end with the annual ?Thanks4Giving? fall dinner in November, where this year?s grant recipients, volunteers and nonprofit organizations will be honored.