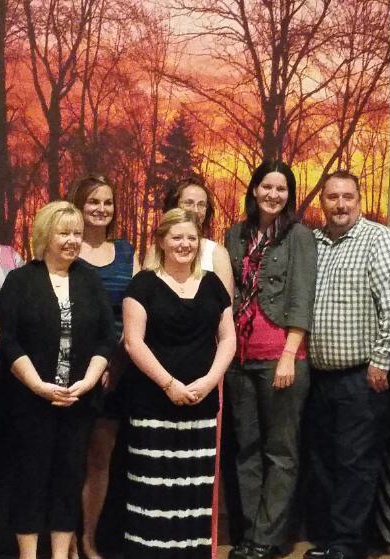 Amanda Huffman is shown in the front row, second from left
The Scott County Community Foundation, along with the community foundations of Clark, Floyd, Harrison and Washington County, has established an Education Matters Southern Indiana initiative. The goal is to try to increase the number of working adults in our region who started but never completed some form of post-secondary education ? education that extends beyond high school.
Through this undertaking, we have identified four critical ways adults could be supported to be more successful. One of these includes establishing a college-going culture, which includes promoting progress in educational achievement.
Amanda Huffman was a recipient of a scholarship at the Community Foundation, the Scott Memorial Hospital Guild Brunton-Mumford Memorial Scholarship. She wants to encourage others to not give up on your dreams.
*
Amanda has been married to her high school sweetheart, Keith Huffman Jr., for six years. They reside in Madison. Keith works as a foreman for Miller Pipeline out of Clarksville.
Amanda is the house supervisor on the weekends for Scott Memorial Hospital, a position she has held for about two years. She has been employed with SMH since 2007, and prior to supervising she worked the Medical/Surgical floor and in ICU for five years.
?I always knew that I was going to college but during high school I did not know what I wanted to do after high school,? said Amanda. ?My mother and father did not go to college so they made it important for my sister and me to graduate with a degree.?
Wanting to advance in her career, Amanda started a ?long route? in working toward her degree. She first obtained her Licensed Practical Nurse (LPN) certificate, and then took online classes to obtain her Associate of Science in Nursing (ASN) degree. When her current supervision position opened, it was a requirement to have a Bachelor of Science in Nursing (BSN) degree or have an ?educational plan,? meaning a program would be started immediately with an end date.
?Supervision was a goal of mine so that is what pushed me to go back to school to obtain my BSN,? shared Amanda.
With that goal in mind, Amanda started classes through Indiana University East. Last year was the first time they held classes at Ivy Tech Community College in Madison through Indiana University East, and Amanda found it convenient to attend a once a week class locally, allowing her to still work full time. Although she was attending classes at Ivy Tech, she was able to receive her degree from IU-East, which was another reason she liked the program.
As a non-traditional adult attending college, Amanda found challenges in her desire to complete her education.
?The main challenge is learning how to juggle everyday life and throw in school,? said Amanda. ?I had to learn how to work full time, spend time with my husband and family, keep up the house chores, and keep a social life while adding in homework, hours of research, and class one night a week. I had to prioritize between school and work. I had to continue to work full time and I had to finish all my homework and focus on getting good grades.?
Amanda did not let these obstacles stop her from meeting her goal, and found ways to overcome.
?I had to have my husband help around the house and take over some chores,? she explained. ?I had to be less of a wife, sister, aunt, daughter, grand-daughter, and friend during the program. I had to encourage all my family and friends that this was temporary and that it was important to me to finish the program with good grades.?
?It is a challenge but worth it,? said Amanda. ?It is an amazing feeling reaching a goal you have set for yourself, especially when it is not an easy goal to reach.?
?Know that the chaos it will cause in your life is temporary and worthwhile,? she advised. ?Do not give up on a dream because you are ?too old? or ?don?t have time.??
*
The Scott County Community Foundation currently has one scholarship available for non-traditional adults who are returning to college to major in healthcare. The Scott Memorial Hospital Guild Brunton-Mumford Memorial Scholarship is worth up to $5,000, and applications are available on the Community Foundation?s website at www.www.scottcountyfoundation.org. They are due Monday, Sept. 22.
For more information or assistance with the scholarship application, please call the Scott County Community Foundation at 752-2057, email info@www.scottcountyfoundation.org or stop in the office at 60 N. Main St., Scottsburg.