Numerous students were recently awarded scholarships through the Scott County Community Foundation. The high school recipients were honored at awards ceremonies at their schools in May, while the adult recipients were given their scholarships at various ceremonies.
The Alice and Gerald Miner Memorial Scholarship was established by the couple?s children, Mike and Ron, before Ron?s death several years ago. Gerald Miner?s father donated 40 acres of land to Hanover College during the Great Depression in exchange for two years? worth of tuition, books, room and board so that Gerald could attend college. Alice and Gerald?s sons wanted to help Scottsburg High School graduates continue their education in college. Olivia Reul of Scottsburg High School received $4,000 to attend IUPUI. Reul is the daughter of Kevin and Ebony Reul of Scottsburg and plans to major in biomedical engineering.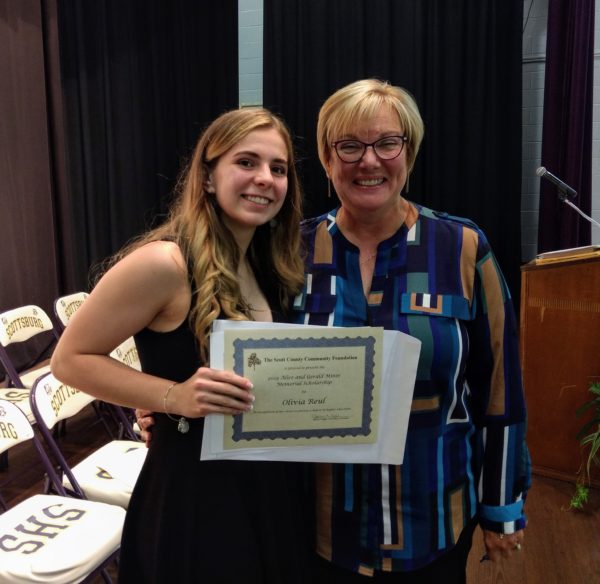 Charles Nolan was a math, computer and photography teacher at Ivy Tech in Sellersburg, a retired middle/high school teacher in Austin and a former GED instructor for New Albany/Floyd County School Corp. in Scottsburg. Lois also taught for both school districts, but was known for her work with students trying to earn their GED. Both were the owners of the old Loaves and Fishes Christian Bookstore in Scottsburg. The Charles G. and Lois D. Nolan Memorial Scholarship Fund is for Scott County graduating seniors who will major in education, math, engineering or a science-related field. Olivia Miner of Austin High School received $500 to attend Hanover College. Miner, the daughter of Michael and Julie Miner of Austin, plans to major in biology.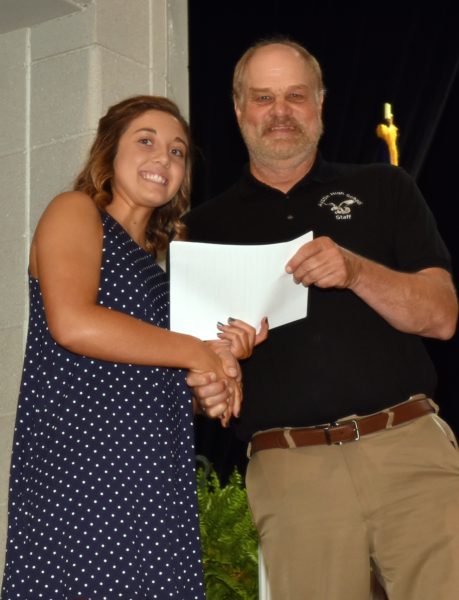 Christie Crafton was a vibrant, dedicated teacher who touched the lives of many young people. She continued teaching day after day right through chemotherapy, right through cancer, until she passed away at the age of 42. Her family established the Christie Crafton Memorial Scholarship to carry on her legacy. The scholarship is awarded to graduates of Scottsburg High School who plan on pursuing a degree in education or a profession that serves children. Isabelle Duckwall of Scottsburg High School received $500 to attend Marian University where she will major in elementary education.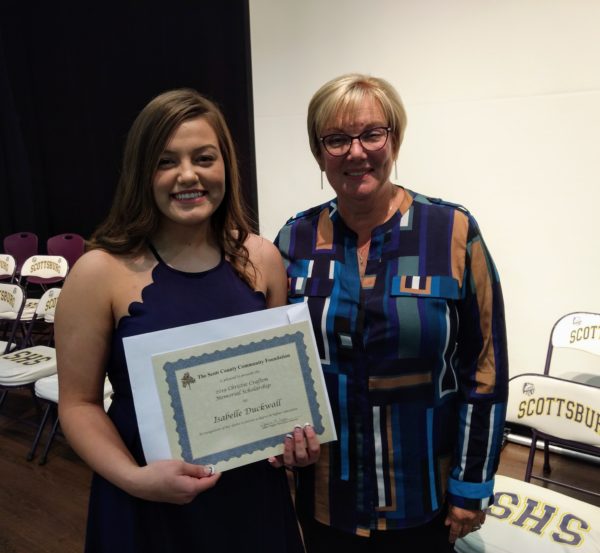 The Dale McNeely Scholarship Fund was established through a bequest from the Martha McNeely estate. The McNeelys were both educators, and Martha was assistant superintendent for Scott County School District 2 for a few years. The McNeelys were passionate about education and children, and their commitment to students lives on through the scholarship fund. Eliza Mount of Scottsburg High School received $11,000 to attend Purdue University. Mount, the daughter of Jason and Shannon Mount, plans to major in civil engineering. Emma Christoff of Scottsburg High School received $10,000. Emma is the daughter of Dennis and Kathy Christoff of Scottsburg. She plans to attend Indiana University to major in exercise science. A third scholarship worth $9,000 was awarded to Macy Colson. Colson, the daughter of Chris and Beth Colson of Scottsburg, plans to attend Indiana University to major in biochemistry.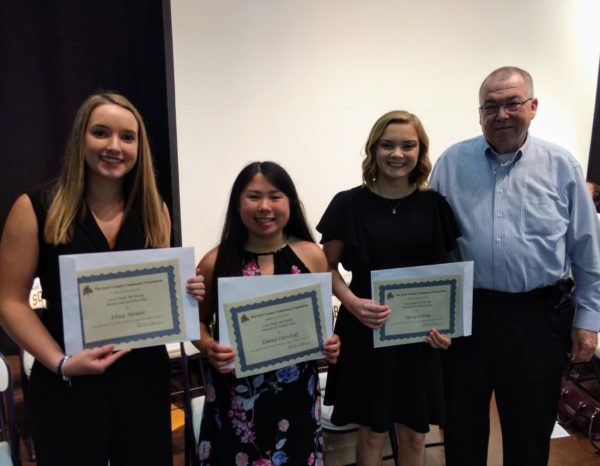 Miriam Epply and Rhea Shields were sisters who grew up in Lexington and both worked in the education field. Rhea had talked about establishing a scholarship, and so her cousin carried out her wishes after her death by establishing the Epply-Shields Memorial Scholarship, which provides assistance to Scottsburg High School students who plan on majoring in elementary or secondary education. Abigail Banet and Isabelle Duckwall each received $2,250. Banet is the daughter of Jon and Michelle Banet of Underwood and plans to attend Hanover College to major in education.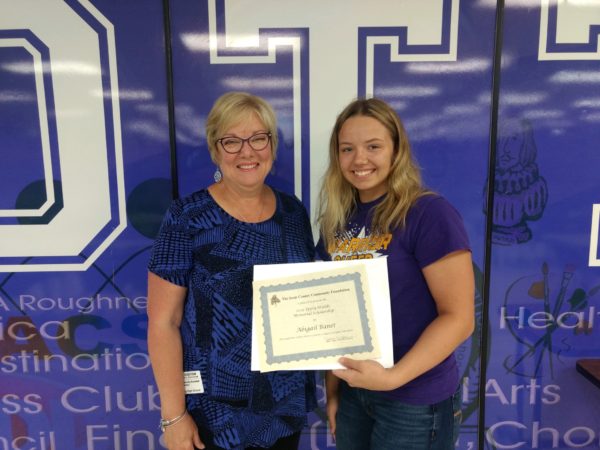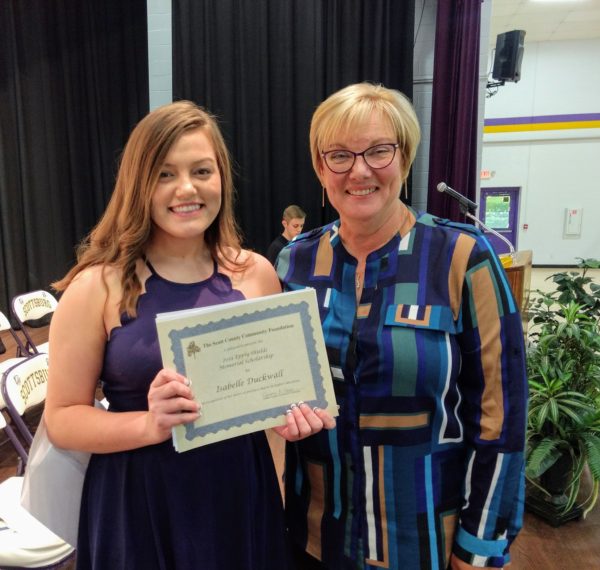 The Lilly Scholars Endowment Fund was established in 2006 after the Scott County Community Foundation challenged its Lilly Endowment Community Scholarship recipients to give back to the community through their time, talent and treasure. Lilly Scholars and their families have contributed to the scholarship fund over the years, and Lilly Scholars are responsible for the selection of recipients. Eliza Mount of Scottsburg High School and Erika Lee of Austin High School each received $500. Lee is the daughter of Sam and Janet Lee of Brownstown. She plans to attend IUPUI to major in informatics and computer science.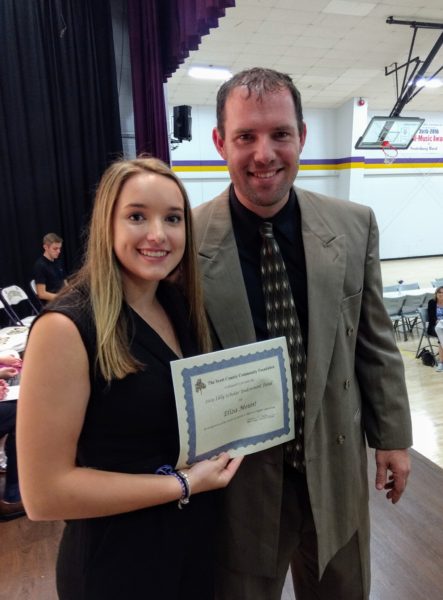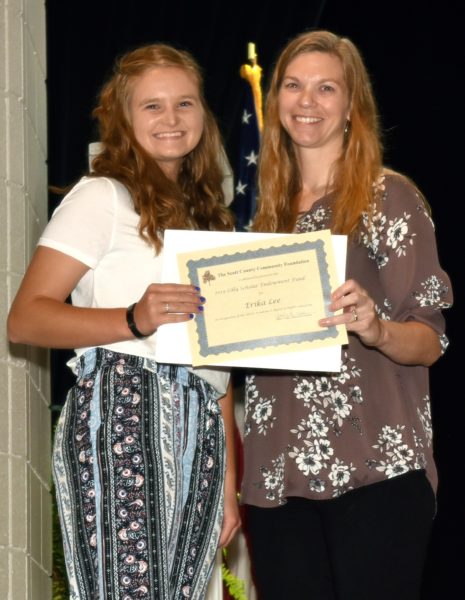 The Mary Elizabeth-Virgil S. Miller Memorial Scholarship was established through a bequest from the estate of Mary Elizabeth Miller. Virgil Miller had taught at Austin High School, and was Scott County Superintendent. He was also the first person to start special education classes in Lexington. Mary established the scholarship in her estate plan as a way to honor her husband. Erika Lee of Austin High School and Lindsey Pfaffenbach of Scottsburg High School both received $2,300 each. Pfaffenbach is the daughter of Bill and Shelley Pfaffenbach of Scottsburg. She plans to attend Purdue University to major in nursing.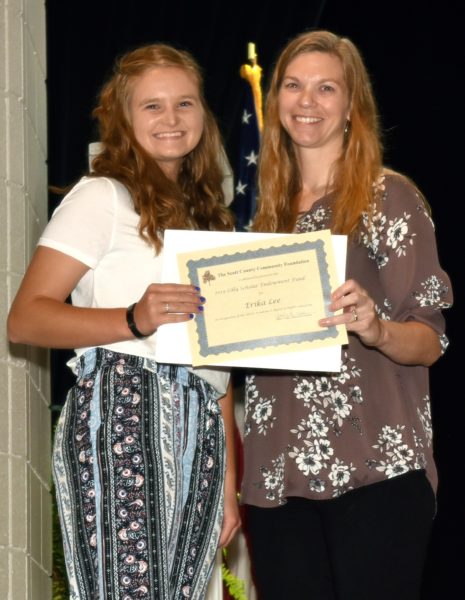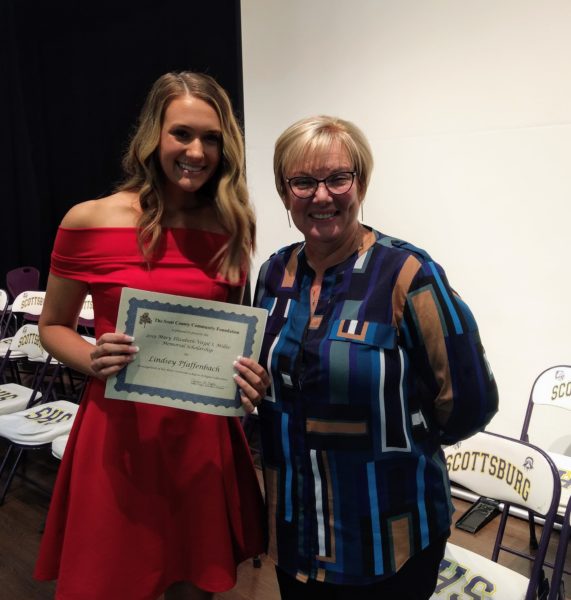 Phyllis Calvin was educated at Austin schools, and came back to teach in the middle school for 30 years until retirement. Because of a never-ending love for both the job and the students, Phyllis decided the recipient of the scholarship would be a graduating student from Austin, with the goal of becoming a teacher. Joseph Smith of Austin High School was awarded $1,000. Smith, the son of Cheryl Smith-Usher of Scottsburg, plans to attend Ball State University to major in mathematics education.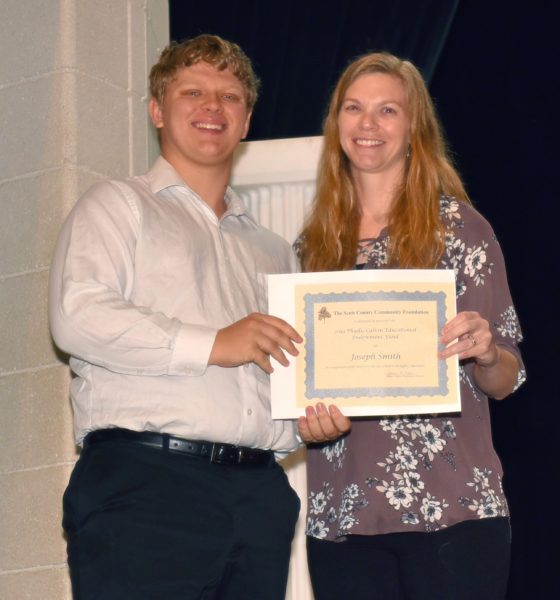 The Pilot Club Lifeline/Mary Allen and Jan Thompson Healthcare Scholarship was created to assist adults continuing on the nursing pathway, or those majoring in specific healthcare fields. Shelly Campbell of Austin received $1,500. Campbell is attending Bellarmine University where she is majoring in nursing.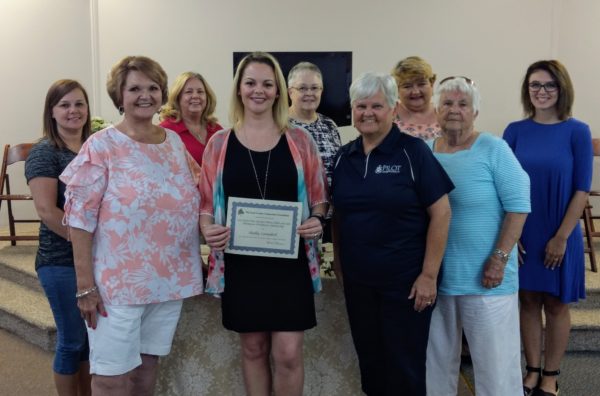 The Robert G. Comer Memorial Scholarship was established for high school seniors whose lives were shaped by agriculture and farming, much like Bob?s own life was, and who plan to continue to grow themselves as they pursue a college degree of their own. Erika Lee of Austin High School received $500.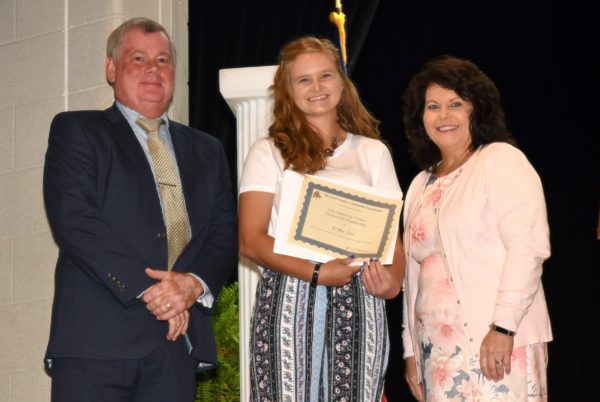 The Scott Memorial Hospital Guild Brunton-Mumford Scholarship was established from the Martha Jane Brunton Fleenor estate. The purpose is to assist students who wish to major in the medical field. Two scholarships were awarded this year, each worth $5,000. Abigail Johanningsmeier of Scottsburg High School will attend Indiana Wesleyan University to major in psychology. Johanningsmeier is the daughter of Chris and Jennifer Johanningsmeier of Scottsburg. Amber Marshall of Austin High School will attend Indiana University Southeast to major in nursing. Marshall is the daughter of Jason and Michele Marshall of Austin.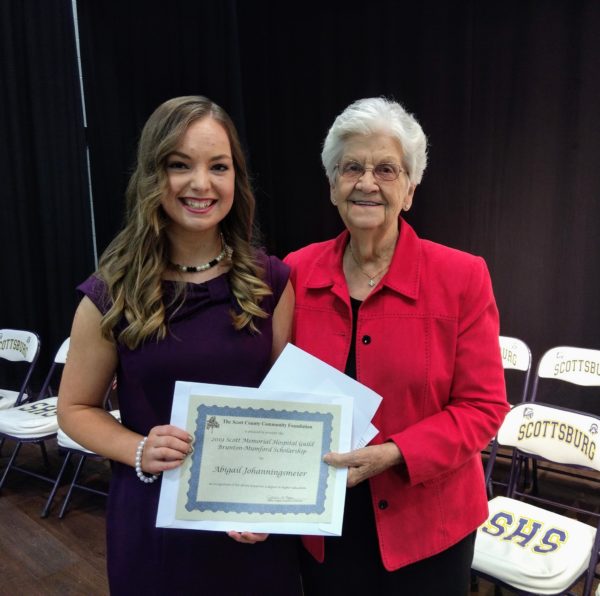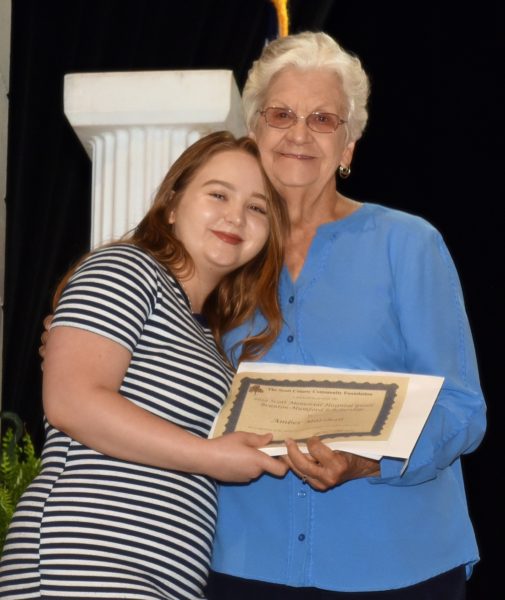 Scott Memorial Hospital established two scholarship funds several years ago to benefit students majoring in the nursing fields at Indiana University Southeast and Ivy Tech. The following students, who are majoring in nursing at IUS, were awarded scholarships: Ashton Bowles of Lexington, $3,500; Adriana Caudill of Scottsburg, $3,500.
Shelley Akers was a young wife and mother whose life was cut tragically short in a tractor accident. Shelley was the office manager for Purdue Extension, and was very involved in 4-H and the community. Scholarship applicants for the Shelley Comer Akers Memorial Scholarship were asked to submit an essay on how they?ve been able to put the 4 H?s in 4H to good use in their life. Lindsey Pfaffenbach received $500.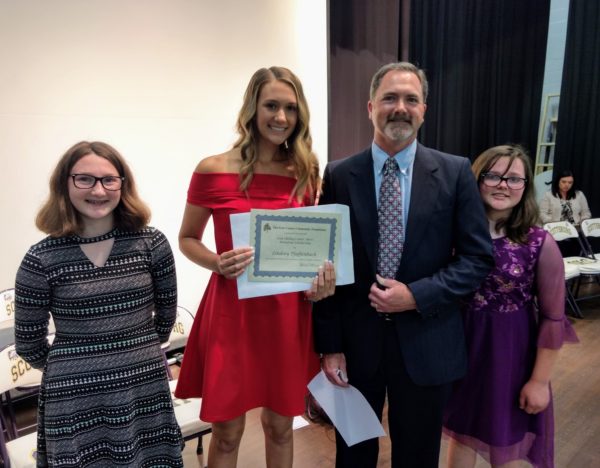 Timothy Michael Wolf was a student at Scottsburg High School, where he was a medalist on the golf team and played trombone for the Band of Warriors. He was diagnosed with leukemia just short of his 14th birthday, and after three years of battling the effects of treatment, Tim went to be with the Lord. Before he passed away, he spoke with his dad about establishing a scholarship fund. Tim loved school and looked forward to his college experience, and his family has said he would be happy to know he has helped others achieve their dreams. Patrick Lincoln of Scottsburg High School received $5,000. He is the son of Lee Anna Willett of Lexington. He plans to attend Indiana University to major in political science.
The Walter S. and Clarice (White) Bridgewater Memorial Scholarship was established in memory of his parents by Dr. Walter C. Bridgewater. Walter Sr. was superintendent of the county farm and small business owner, while Clarice was business manager at Morgan?s. Isabella Myszak was awarded $500. Myszak is the daughter of Angie Richey of Scottsburg. She plans to attend Indiana University to major in media.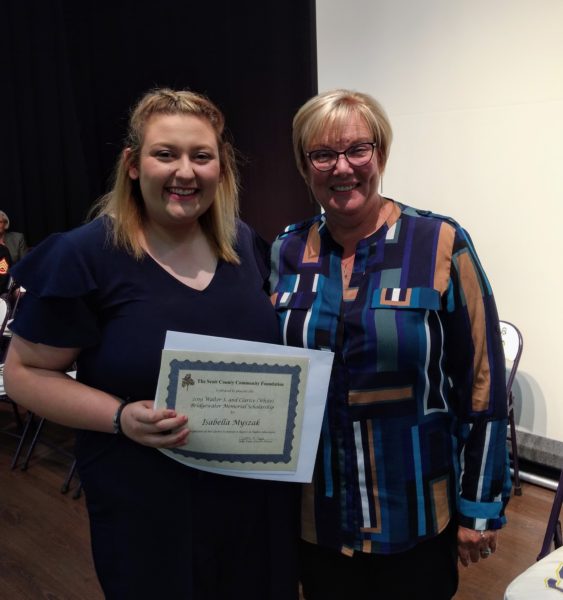 The Scott County Community Foundation congratulates all the scholarship recipients on their success. For more information on how the Community Foundation can assist with your charitable giving and establishing a scholarship fund, please call 812-752-2057, email info@www.scottcountyfoundation.org or stop in the office at 60 N. Main St., Scottsburg. You may also visit www.www.scottcountyfoundation.org