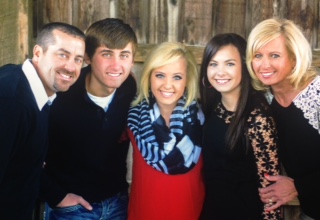 We are excited to announce the addition of?a new board member, Sheila Carter. Sheila began her term Oct. 1.
Sheila and her husband, Matt, reside in Austin. They have been married for 20 years and have three children, who all attend Austin High School. Case, a senior, plans to play golf in college and major in business. Kaylin, a junior, plans to become a lawyer. Kenzie, a freshman, plans to play volleyball in college and go into the occupational therapy field.
?I have a wonderful family and support system,? said Sheila. ?I am married to my high school sweetheart and love of my life, Matt Carter.? Matt is the Senior Director and Pharmacy Director at Scott Memorial Hospital.
Sheila graduated from Indiana University Southeast, where she completed her bachelor?s, master?s degrees and administrative leadership course work. She is the assistant principal at Austin Elementary School.
?I thoroughly enjoy my position and the opportunities it allows me to serve the families of Austin,? said Sheila.
Along with the many duties of being an assistant principal, she also coaches the Austin Lady Eagles Varsity Volleyball team.? This year the Lady Eagles Volleyball Team won the first volleyball sectional in Austin?s school history.
Sheila shared that her family is her ?hobby? and that they enjoy vacationing, playing sports, watching movies, and attending church at Northside Christian Church in New Albany.
?If I have spare time, which is rare, I enjoy reading and visiting new restaurants with my family and friends,? said Sheila.
?I feel the Community Foundation is a great asset to our community,? said Sheila. ?The Community Foundation focuses on ALL of the community needs, not one particular entity. I am excited and thankful to serve my community in this capacity. Thank you for this rewarding opportunity.?
?We couldn?t be more honored to have Sheila join our Board,? said Executive Director Jaime Toppe. ?Her love for her family and community is evident to anyone who knows her. We look forward to having her enthusiasm as we share with the community the great stories made possibly through people who give to the community.?