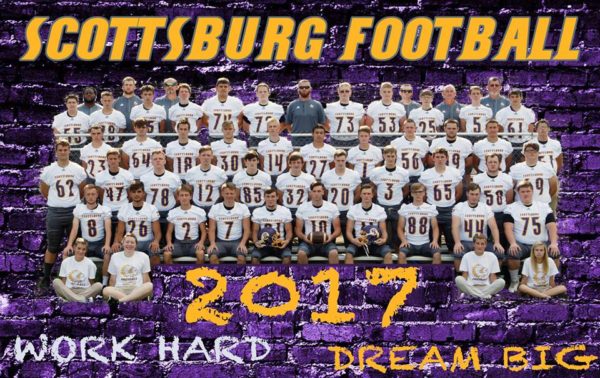 The Scottsburg Warrior football team and Scott County Community Foundation are teaming up to tackle hunger in a ?Turnover Hunger? campaign. The idea started in our neighboring Washington County, where football coach Andrew Burks worked with the Washington County Community Foundation to raise money for their food pantry.
?We wanted to take something everybody loves (football), and use it to combat something everybody hates (hunger),? said Burks. The idea was very successful during the 2016 season, raising several thousand dollars for the fund.
The idea was shared with over 40 football teams from over 20 counties at the Region 10 Indiana Football Coaches Association meeting this February. They loved it, said Burks. So this year, the idea is to expand to other football teams and raise $100,000 to help fight hunger in Southern Indiana.
For each individual, family or business that wants to participate, you may either contact a member of the football team or the Scott County Community Foundation to pledge a certain dollar amount for every turnover the Warriors defense and special teams force. At the end of the season, the Community Foundation will contact you with the total owed. The donations will benefit the Scott County Hunger Fund, which provides grants to the Scott County Clearinghouse. The Clearinghouse assists about 1,500 people every month, with about 40 percent of those children and senior citizens.
?Scottsburg Warrior Football is blessed to have the opportunity to aid in ?Turnover Hunger? this season as we partner with the Scott County Community Foundation,? said Scottsburg High School football coach Kyle Mullins. ?Through this initiative, we hope to make a difference in Scott County by raising money for those who aren't sure when or where their next meal will occur. I want to encourage the Scottsburg community to join with us in this fight and donate money for each turnover our team forces this season. While helping us battle hunger in Scott County, you will also help instill in our football players the value of servant leadership!?
Pledge forms will also be available at the first game on Aug. 18 at Warrior Field, Scottsburg Middle School. The Warriors will be playing Clarksville, and the community is invited to cheer on the team.
To pledge your donation to turnover hunger, you may also stop in the Scott County Community Foundation office at 60 N. Main St., Scottsburg, call 812-752-2057 or email info@www.scottcountyfoundation.org.