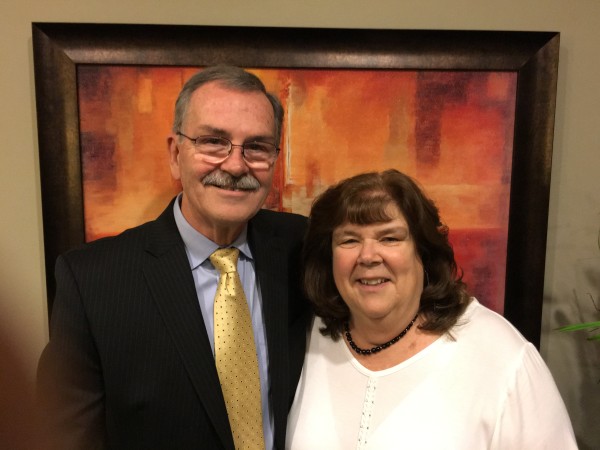 Charitable organizations in Scott County will get a boost in funding through another unrestricted fund established at the Scott County Community Foundation, announced Executive Director Jaime Toppe. Each year, unrestricted funds make it possible for organizations to receive grants during the Foundation?s Community Grants Program.
As a former member of the Board of Scott County Community Foundation, Dan Slattery wanted to show his commitment to the Foundation?s mission.
While Dan and Mary Lou reside in Bartholomew County, Dan felt it was very important to support the community where he worked.? Dan was employed at Morgan Foods for 16 years and retired in 2015. He was very impressed with the work the Foundation does for the residents of Scott County.
Both are members St. Agnes Parish in Brown County and have been very active in a variety of leadership positions. They have been involved in many aspects of community life. Dan enjoys golf and Mary Lou was a regular on the tennis courts. They both enjoy traveling and spending time with their children and seven grandchildren.
By establishing the Dan and Mary Lou Slattery Fund, they are able to support the mission of the Foundation today and for generations to come. The Slatterys chose the Foundation?s Forever Tree Society program to start their fund in 2010. They liked the many benefits of the program ? that a person or organization can begin a fund with a small amount of money, and that anyone can contribute to their fund in any amount for any special occasion.
?Dan and Mary Lou were able to take advantage of matching grant opportunities over the years, and have now reached the Willow level of the program,? shared Toppe. ?This allows grants to be awarded to the community each year in their honor. This is a wonderful way to honor their commitment to the community, and we are grateful that Scott County will benefit from their generosity.?
If you would like to donate to the Dan and Mary Lou Slattery Fund in honor of the couple, your donation will be matched dollar for dollar through March 31, 2016 through a matching grant opportunity from Lilly Endowment. Please send your contribution to the Scott County Community Foundation, PO Box 25, Scottsburg, IN 47170. You may also stop in the office at 60 N. Main St., Scottsburg, call 812-752-2057 or visit www.www.scottcountyfoundation.org for more information.