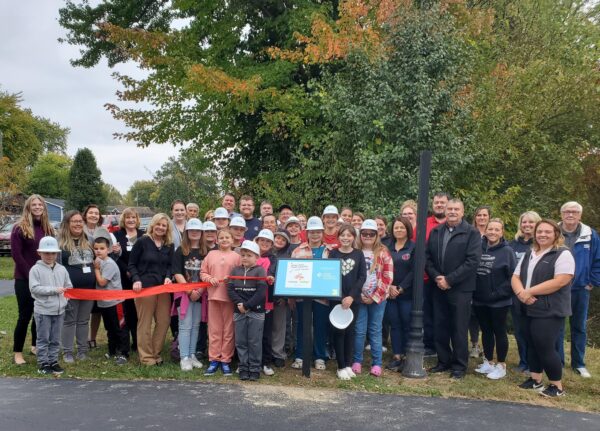 Scott County's third StoryWalk® was installed at Manaugh Memorial Park in Austin recently. A large group of supporters attended an opening reception and ribbon cutting hosted by Scott County Community Foundation's Early Childhood Committee and Scott County Chamber of Commerce. The StoryWalk® Project is a series of signs with pages from a children's book, placed along a walking path around the lake. Each sign has interactive activities to encourage early literacy skills along with exercise and nature. The StoryWalk® installation was made possible through Duke Energy Foundation. The storybook featured is One Leaf, Two Leaves, Count With Me by John Micklos Jr.
"This book is a fun combination of math, reading and science lessons all in one," said Lisa Huber, government and community relations manager for Duke Energy in southern Indiana. "It provides an amazing opportunity for youth to count, read about the four seasons and enjoy nature while walking around the lake."
"This project would not have happened without the generosity of Duke Energy Foundation, and we are extremely grateful to them for their grant," said Scott County Community Foundation Executive Director Jaime Toppe. "We would like to thank the Austin Elementary K-Kids for their help at the reception, and the City of Austin and Austin Parks Board for their support of these projects for our community."
The Community Foundation's Early Childhood Committee will rotate the books quarterly. The other two StoryWalk® projects are located at Austin Community Park and Scott County Courthouse. Those interested in sponsoring a book for $250 can contact the Community Foundation at 812-752-2057 or email info@scottcountyfoundation.org.