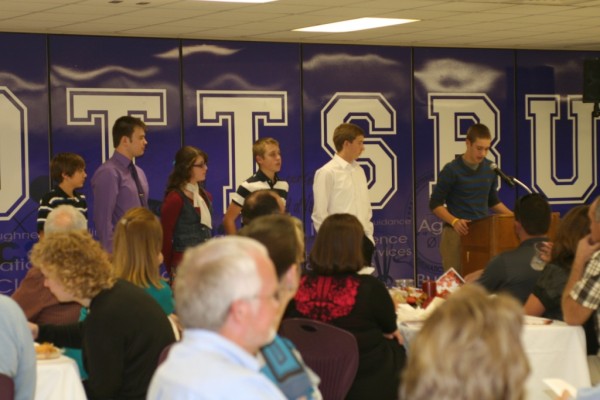 The celebration of the Scott County Community Foundation?s 15-year anniversary will be the highlight of the fourth annual ?Thanks4Giving? fall dinner. The recognition event is to show appreciation for the generous and devoted donors, volunteers and nonprofit organizations in our community.
The Community Foundation will focus on the accomplishments made in the community through the existence of a community foundation. Through the generosity of donors, $2.7 million has been awarded to the community for scholarships and grants, and over $8.4 million has been funneled through the Foundation from Lilly Endowment to help fund places such as the Lifelong Learning Center, Scott County Family YMCA, Scott County Clearinghouse, Scott County Heritage Center and Museum, ballparks in Austin, Lexington and Scottsburg, and more. Guest speakers will include those touched by the Community Foundation over the years.
As the annual tradition, all nonprofit organizations in attendance will be entered in a drawing to receive a mini-grant for their organization. About $58,000 was awarded during our Community Grants Program this year, and those recipients will be formally recognized as well. Members of the Scott County Youth Grantmaking Council will speak about their activities in the community. Owen and Annette Egeberg will provide music for everyone?s enjoyment.
Results of the ?15 Years. $15,000. 15 Days.? campaign will be announced that evening. This special endowment-building campaign will offer a match of every donation made to an endowment fund between Nov. 1-15, up to $5,000 per donor, with $15,000 in matching funds available on a first-come, first-served basis.
The special event will be held Thursday, Nov. 15 from 6 to 8 p.m. at Jeeves & Company, 64 S. Main St., Scottsburg. Tickets are $25 per person for the dinner, which will feature a buffet of roast beef, honey baked ham, bourbon pecan chicken, mashed potatoes, sugar snap peas and julienned carrots, sauteed green beans, tossed salad, roll, drinks and dessert. A cash bar is available as well.
Auction items are being sought for the evening, with live auctioneer services provided by Ryan Payne. Proceeds will go to support the mission of the Foundation. Current auction items include those donated from Alpine Ice Arena in Louisville, Big Splash Adventure Indoor Water Park in French Lick, Children?s Museum of Indianapolis, paintball tickets to the Fun Farm in Corydon, hotel and restaurant package at Horseshoe Casino, massage gift certificate at Health Centered Chiropractic, Indiana State Museum tickets, Indianapolis Zoo tickets, Jeeves & Co. gift cards, Louisville Bats tickets, Purdue coach Matt Painter autographed photo, Scott County Family YMCA 3-month family membership, gift certificate at Sky Sport Fitness, Squire Boone Cavern passes, Walt Disney World passes, and a barn, house, school or other building of your choice handcrafted by local artist Dorrell Harrison (donated by Sunshine House Health Food Store), and more.
Sponsors are still desired for this event. For $200, a sponsor will receive six dinner tickets, special recognition, and a chance to have $250 donated to the endowment fund of the sponsor?s choice. Current sponsors include the Greater Scott County Chamber of Commerce, ILPEA Industries, Bob and Connie Kenninger, Morgan Foods, Scottsburg Building and Loan Association and United Way of Scott County.
Reservations are required and are due by Friday, Nov. 9, and seating is limited. To reserve your seat or for more information, please contact staff at 752-2057 or email info@www.scottcountyfoundation.org.