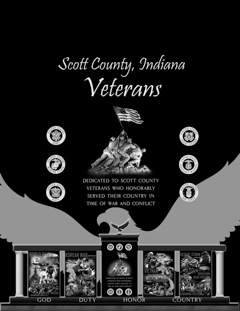 The Scott County Veterans biographical history book honors 500 Scott County veterans who have served during war and peace, and includes special stories of interest about veterans and the Prisoner of War camp in Austin. There are also tribute sections to Prisoners of War and those who gave the ultimate sacrifice. The special commemorative editions are still available for purchase, and will make wonderful gifts for Veterans Day and Christmas.
The book was published by the Scott County Community Foundation earlier this year, and serves as a military, historical and genealogical reference for future generations. Copies are available for $49.95 plus tax ($53.45 total), or books may be shipped directly from the publisher for an additional charge.
Sponsors of the book include Morgan Foods, Buchanan Funeral Home, Gary R. Bush, City of Austin, Collins Funeral Home, Col. Eusebio C. Kho, M.D., F.A.C.S., Daughters of the American Revolution (General Charles Scott Chapter), Gladys Bridgewater, Home Helpers, Jack Bridgewater Real Estate, Jan Hardy, Scottsburg Clerk-Treasurer, Kenneth and Paula Baldwin, L.K.S. Rose, Inc. & Bloomington Trail General Store, Lucky and Karen Rose, Medical Arts Pharmacy, Roger and Mary Jo Duvall, Saegesser Engineering, Scott County Knights of Columbus 8052, Scott County Moose Lodge #2324, Scottsburg Family Healthcare, Scottsburg Lions Club, Sunshine House Health Food Store and James M. Turley.
You may pick up your special limited edition copy at the Scott County Community Foundation, 60 N. Main St., Scottsburg., or at the Scott County Heritage Center and Museum, 1050 S. Main St., Scottsburg. Please call 752-2057 or email info@www.scottcountyfoundation.org with any questions.