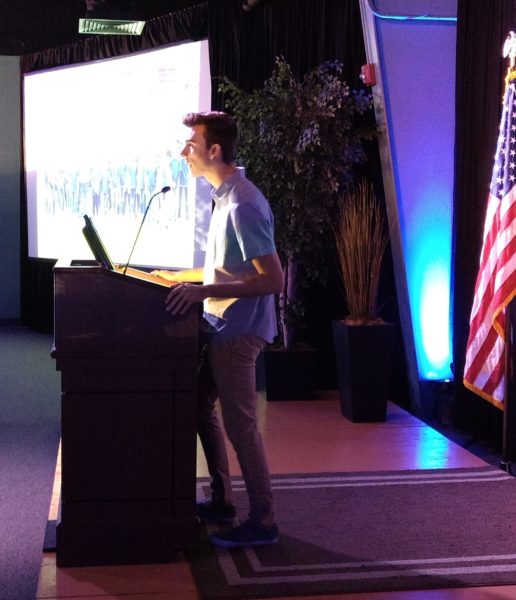 YGC senior Josiah Croasdell gives an overview on the YGC at their annual dinner.
The Scott County Youth Grantmaking Council (?YGC?), a program of the Scott County Community Foundation, awarded over $8,600 in grants to youth-related projects in the community at an annual dinner held May 30 at Mid-America Science Park. This was the first time the YGC has fully funded every request.
Austin Elementary School received $550 for ?Reading to the Rescue.? Teacher Mary Anderson is going to start their first-ever reading club. It will have a community service component where they will read to senior citizens in nursing homes.
Austin Middle School received $800 for ?Community Social Skills.? Teacher Lee Anne Hahn will take her students on restaurant outings to help teach life and social skills.
Blessings for Prom received $800 to provide a prom experience for girls who may not otherwise be able to attend.
Lexington Good Faith Preschool received $800 to purchase sensory tables, crafts, teaching supplies and other materials.
OVO Head Start received $800 to purchase iPads for the preschool students.
Scott County Youth Football League received $800 to purchase new footballs for games that will be hosted in Scottsburg this year.
Scottsburg Middle School received three grants. Teacher Carrie Carter received $392 for ?Read Across Scott County.? She will do a reading project with her language arts students to remind them why reading is fun, where they will read a picture book and create an online newsletter to be used by elementary students. Teacher Tony Carter received $800 for ?Scoring in the Classroom.? He is starting a mentoring program for student athletes who struggle academically. Teacher Tiffany Copple received $800 for ?Inspiring Future Ready Kids of Scott County.? She will purchase Kano computer building kits.
Vienna-Finley Elementary School received two grants. Teacher Brittany Banister received $500 for ?Breakout EDU for the Classroom.? The kits will teach students how to problem solve, show creativity and critical thinking. Coach Scott McDill received $800 for ?Archery Expansion Project.? He will purchase additional targets for the growing archery club members.
Young Marines received $800 to start a chapter in Scott County. Youth learn leadership, community service and the benefits of being drug-free.
?I think that fully funding all the grants was a good decision,? said Grants Committee Co-Chairperson Elle Fleenor. ?I feel like each organization or group needed and deserved the money, and I was thrilled that we were able to fully fund them.?
Scott County Youth Grantmaking Council officers and committee chairpersons were also recognized at the annual dinner. Voting members of the YGC include Jordan Gibson and Jakeb Watts of Austin High School; Miranda Baker, Hannah Brown, Makalynn Brown, Gavin Collins, Josiah Croasdell, Hannah Dickerson, Sara Edwards, Elle Fleenor, Macy Funk, Justice Gabbard, Alexa Howser, Ally Justice, Eliza Mount, Isaak Mount, Emma Waskom, and Caleb White of Scottsburg High School; Ryan Howser, Brinley Soloe and Lyla Waskom, Scottsburg Middle School; Lauren Turner of Turner Academy Homeschool.
Officers are Isaak Mount Mount, president; Eliza Mount, vice president; Miranda Baker, secretary; and Josiah Croasdell, treasurer. Committee chairpersons include Makalynn Brown and Justice Gabbard, asset development; Elle Fleenor and Hannah Brown, grants; Emma Waskom, community service; Alexa Howser, governance.
In addition, due to the overwhelming response of students who wished to serve on the YGC, the community service committee was expanded several years ago and membership was opened to anyone who wished to serve. The committee performs monthly service projects throughout the community, such as stocking shelves at the Clearinghouse, playing bingo with senior citizens, delivering appreciation bags to police officers, placing flags on veterans? gravesites for Memorial Day and much more. Members on this committee include Nick Henderson of Austin Middle School; Kenzie Carter, Ethan Fugate and Jillian Walker of Austin High School; Kellan Carter, Mayson Cutter and Hayden Garten of Johnson Elementary School; Becky Foster and Emily Foster of Lakeside Middle School; Hayden Asdell of Lexington Elementary School; Bryton Richey of Scottsburg Elementary School; Isabella Campbell, Sydney Craig, Chandler Elliott, Carter Gricius, Skylar Herald, Olivia Higginbotham, Brooklyn Hunley, Abby Masterson, Dylan Roberts, Jackson Taylor, Lucas Toppe, Sophia Voiles and Lydia Wolf of Vienna-Finley Elementary School; Aubrey Asdell, Addie Borden, Gavin Borden, Jenna Buckner, Jackson Campbell, Mia Collins, Aidan Crites, Jaylynn Cross, Abby Doriot, Lexi Edwards, Landon Gricius, Jameson Hale, Avery Kendall, Emily Justice, Melea Luttrell, Eric Marcum, Rachael Mount, Claire Routt, Grace Routt, Logan Weilbaker and Alex Witt of Scottsburg Middle School; Paige Barrett, Lyndie Foster, Taylor Funk, Dylan Hancock, Ethan Mullins, Jake Murphy, Olivia Reul, Sarah Thomas and Gino Wouters of Scottsburg High School.
Graduating seniors were also honored for their service. They included Paige Barrett, Makalynn Brown, Josiah Croasdell, Sara Edwards, Taylor Funk, Alexa Howser, Jake Murphy, Lauren Turner, Emma Waskom, Jakeb Watts and Caleb White. Isaak Mount was honored as the voting member who has served the most hours, and Eric Marcum was honored as the Community Service Committee member who has served the most hours. Each received a paintball package.
In total, 76 YGC members volunteered 1,226 hours from Oct. 1 through the end of May between 35 different meetings and events, shared Scott County Community Foundation Executive Director Jaime Toppe. According to government figures, the value of their volunteerism is over $28,600, shared Toppe.
Applications for new members on the Community Service Committee should be submitted by Aug. 7. Interviews will be conducted by the youth for anyone wishing to become a member, and there are a limited number of open positions available.
For more information on the Scott County Youth Grantmaking Council please call Jaime Toppe at 752-2057 or email info@www.scottcountyfoundation.org. You may also stop in the office at 60 N. Main St., Scottsburg, or visit the website at www.www.scottcountyfoundation.org or www.facebook.com/ScottCountyYGC.