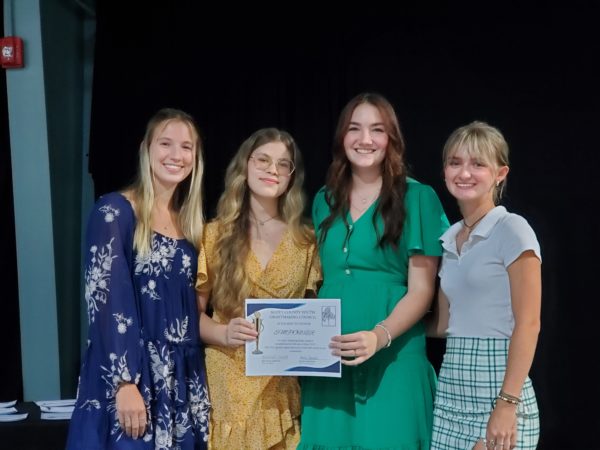 The Scott County Youth Grantmaking Council ("YGC"), a program of the Scott County Community Foundation, awarded $5,675.71 in grants to youth-related projects in the community. The YGC honored grant recipients at their annual celebration on June 11.
Austin Middle and High School was awarded $600 for "Life Skills in the Community." Teacher Lee Anne Hahn will take her students on restaurant outings to help teach life and social skills.
EMPOWER of Scott County was awarded $700 for "Amazing Shake." Austin and Scottsburg middle school students compete in several rounds testing their communication skills and professionalism through different scenarios and interviews.
Englishton Park received $250 for "Summer Camp Program Team Building Supplies." Englishton Park hosts three 10-day camps for students where they receive academic remediation as well as team building skills.
Preservation Alliance Inc. received $615 for "Summer in Scott County Tiny Art Show." Scott County students were invited to submit miniature canvases of paintings displaying summer, with the artwork being displayed at the Scott County Heritage Center and Museum.
Scott County Family YMCA received $1,000 for "Fall Fun Camp" for students during fall break.
Scottsburg Middle School received $1,000 for "Therapy Dog." They will start a therapy dog program to support children in addressing their social and emotional learning needs.
In addition, for the first time in the YGC's history, the youth made proactive grants to organizations serving youth in our community.
CASA of Scott County was awarded $250 for providing a voice for youth in court proceedings.
Cloud of Witness Ranch was awarded $500 for their equine-assisted therapeutic services for youth.
Lexington Elementary School was awarded $260.71 for the YGC's Philanthropy in the Classroom project. Third grade students received owl pellets for science class after a trip to Hardy Lake. Fourth grade students received books for their classroom libraries. Fifth grade students received materials for a memory project to commemorate elementary school.
Scott County Public Library received $250 for their summer reading program.
Scott County Early Childhood Committee received $250 to sponsor a StoryWalk book.
The total amount of grants awarded since the YGC's inception is almost $92,000. Grants Committee Co-Chairs Melea Luttrell and Grace Routt stated, "We had a lot of different organizations apply for grants this year. We hope that the money awarded will benefit them in more ways than one."
Photos of the grant recipients can be viewed on the YGC's Facebook page, https://www.facebook.com/scottcountyygc. For more information on the YGC, please call 812-752-2057, email info@scottcountyfoundation.org or visit www.scottcountyfoundation.org.