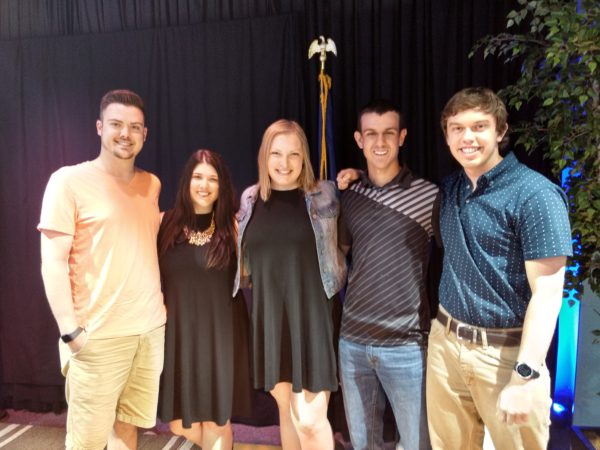 YGC Alumni Kevin Jentzen, Carmen Boley, Lindsey Boswell, Jordan Shuler and Braden Hale shared how the YGC has impacted their lives at the YGC's annual dinner.
The Scott County Youth Grantmaking Council (?YGC?), a program of the Scott County Community Foundation, awarded $5,800 in grants to youth-related projects in the community at an annual dinner held May 18 at Mid-America Science Park. This year was a special celebration, as the YGC has awarded grants for 10 years.
Austin Middle School received $800 for ?Community Social Skills.? Teacher Lee Anne Hahn will take her students on restaurant outings to help teach life and social skills.
Community Action of Southern Indiana received $800 for ?Life Literacy Academy.? Students will participate in two off-campus retreats to practice team-building skills and experience life outside school and home environments.
CRADLE Crisis Pregnancy Center was awarded $215 for ?Ladybug Lending Library.? CRADLE will place a box outside their office that will be filled with books that children can access 24 hours a day.
Lexington Good Faith Preschool received $800 to purchase books and mats.
Scott County Young Marines received $800 to purchase uniforms and guide books. Youth learn leadership, community service and the benefits of being drug-free.
Scott County Youth Football League received $800 to purchase an AED.
Scottsburg Middle School received two grants. Teacher Lori Hill was awarded $800 for ?Rise and Dine,? which will allow students to go on restaurant outings to learn life and social skills. Teacher Chris Von Dissen was awarded $400 to purchase a Nintendo Wii to allow students with special needs the opportunity for team building.
United Way of Scott County was awarded $800 for the Dolly Parton Imagination Library, which provides free books for children from birth through age five.
?We were honored to award the grants and are excited to see what the money will do for these organizations,? said grants committee co-chairpersons Elle Fleenor and Hannah Brown.
Scott County Youth Grantmaking Council officers and committee chairpersons were also recognized at the annual dinner. Voting members of the YGC include Addie Borden, Sydney Craig, Rachael Mount and Brinley Soloe of Scottsburg Middle School; Miranda Baker, Gavin Borden, Hannah Brown, Gavin Collins, Hannah Dickerson, Elle Fleenor, Macy Funk, Justice Gabbard, Ryan Howser, Ally Justice, Eric Marcum, Eliza Mount, Isaak Mount, Ethan Mullins, Olivia Reul, Sarah Thomas, Lyla Waskom and Logan Weilbaker of Scottsburg High School.
Officers are Isaak Mount Mount, president; Eliza Mount, vice president; Miranda Baker, secretary; and Justice Gabbard, treasurer. Committee chairpersons include Hannah Dickerson, asset development; Elle Fleenor and Hannah Brown, grants; and Ryan Howser, community service.
The YGC now starts all members on the Community Service Committee. This committee performs monthly service projects throughout the community, such as stocking shelves at the Clearinghouse, playing bingo with senior citizens, delivering appreciation bags to police officers, placing flags on veterans? gravesites for Memorial Day and much more. Members on this committee include Nick Henderson and Sam Prather of Austin Middle School; Kenzie Carter, Ethan Fugate and Jillian Walker of Austin High School; Becky Foster and Emily Foster of Lakeside Middle School; Katie Montgomery of Lexington Elementary School; Aubrey Asdell, Hayden Asdell, Jenna Buckner, Isabella Campbell, Kellan Carter, Mia Collins, Aidan Crites, Jaylyn Cross, Mayson Cutter, Abby Doriot, Chandler Elliott, Lexi Edwards, Hayden Garten, Carter Gricius, Skylar Herald, Karson Higdon, Olivia Higginbotham, Brooklyn Hunley, Emily Justice, Melea Luttrell, Abby Masterson, Sydney Mayer, Bryton Richey, Dylan Roberts, Claire Routt, Grace Routt, Ella Siekman, Jackson Taylor, Haley Thomas, Hannah Thomas, Lucas Toppe, Sophia Voiles, Lydia Wolf of Scottsburg Middle School; Jackson Campbell, Abby Colson, Macy Colson, Lyndie Foster, Landon Gricius, Jameson Hale, Lauren Jeffries, Avery Kendall, Alex Witt and Zoe Zellers of Scottsburg High School; Chace Coomer and Chloe Mullins of Vienna-Finley Elementary School.
Graduating seniors were also honored for their service. They included Justice Gabbard, Isaak Mount and Sarah Thomas. Eliza Mount was honored as the voting member who has served the most hours, and Macy Colson was honored as the Community Service Committee member who has served the most hours. Each received a paintball package.
To help celebrate 10 years of grantmaking, YGC alumni were invited to the dinner. Former YGC members Carmen Boley, Lindsey Boswell, Braden Hale, Kevin Jentzen and Jordan Shuler shared the impact that the YGC has had on their lives and how they?ve continued their service.
Applications for new members on the Community Service Committee should be submitted by Aug. 1. Interviews will be conducted by the youth for anyone wishing to become a member of the Community Service Committee.
All photos from the event can be found on the YGC's Facebook page,?https://www.facebook.com/scottcountyygc/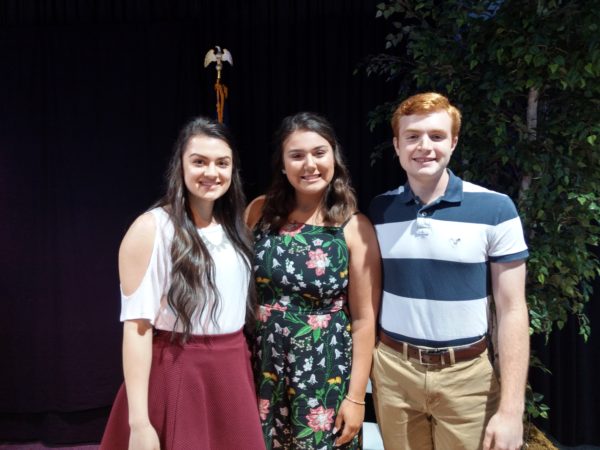 YGC graduating seniors Sarah Thomas, Justice Gabbard and Isaak Mount