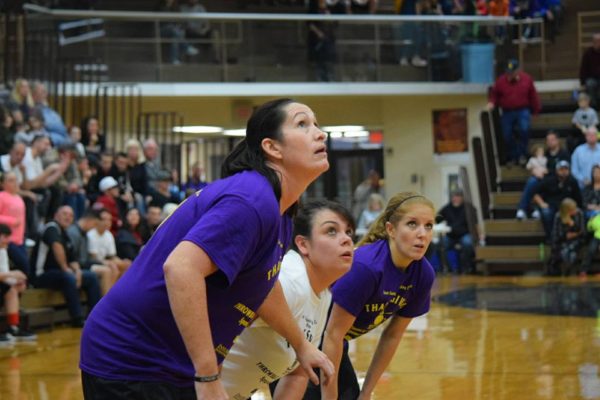 Rivalries and basketball fever will come together for a good cause at the Scott County Youth Grantmaking Council?s third annual Thanksgiving Throwback Throwdown fundraiser! The Austin versus Scottsburg game will feature alumni from the schools battling for a coveted traveling trophy and bragging rights. Last year Austin men and women took home both trophies on Eagle ground.
The big event will be held Sunday, Nov. 19 at 5 p.m. at Meyer Gym in Scottsburg. Tickets are $3 for students and $5 for adults. Concessions will be available. National Youth Advocate Program is sponsoring the Turkey Shoot-Out contest in between the games, with a $100 cash prize.
The YGC is still seeking players for the games. Current players include: Austin women: Ellen (Gabbard) Roberts, Brittany Smith, Kelly Hollan, Ashley Dowling, Jessie Davidson and Kaitlin Embrey; Scottsburg women: ?Carla (Westmoreland) Zellers, Christie (Hutchinson) Rarick, Patty (Hutchinson) Clancy, Jennifer (Miller) Morris, Jennifer (Collins) Donohue, Jamie (Collins) Beverly, Tia Deaton, Courtney Means, Katie Burch and Taylor Means; Austin men: Matt Hunter, Jeremy Holland, Derek Eldridge, Tyler Petersen, Ben Raichel, Ty Winchester, Andrew Clark, Cody Lesnet, Dakota Staschke, Markus Fleenor, Duncan Wooten and Kenton Embrey; Scottsburg men: Eric Mullins, Monty Stutsman, James Colwell, Johnney Coomer, Allen Barnett, Dustin Marshall, Josh James, Tony Amick, Derek Coomer, Cameron Collins and Cameron Schmidt.
Youth Grantmaking Council member Avery Kendall will do the honors of singing the National Anthem before the games. Cheer teams are being organized again; Scottsburg cheerleaders should contact Jason Kendall or Jennifer Craig, while Austin cheerleaders should contact Brittany Banister. Plans are in the works for an alumni band. All alumni, whether or not they play in the game, will be honored during halftime. Fans are encouraged to use #alumniweek on social media to share photos from the past.
Sponsors are still needed to help make this a successful fundraiser. Last year?s event raised $4,400, and allowed the YGC to fully fund every grant request they received for youth projects in Scott County. The YGC invites the entire community to a fun night of Hoosier hysteria and witnessing the greats play again!
The YGC is a program of the Scott County Community Foundation, where youth learn about community service, leadership, teamwork, fundraising and grantmaking.? This past year the YGC awarded $8,642 in grants for youth-related projects. Please contact Jaime Toppe at 812-752-2057 or email info@www.scottcountyfoundation.org for information, to sign up to play or sponsor the event.