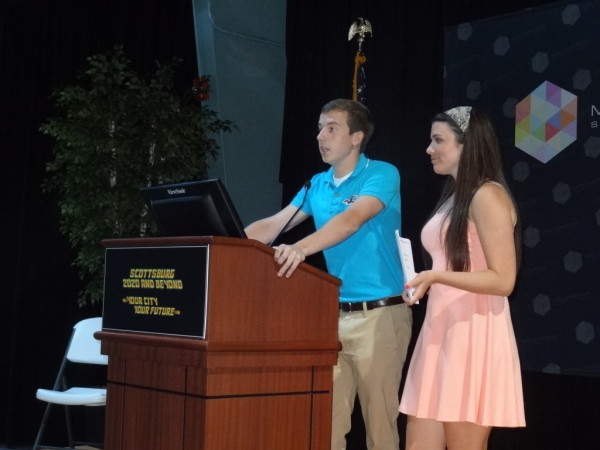 YGC Grants Committee Chair Braxton Soloe and Asset Development Committee Chair Carmen Boley announce the grant recipients.
The Scott County Youth Grantmaking Council awarded over $5,800 in grants to youth-related projects in the community at an annual dinner held June 2 at Mid-America Science Park.
Austin Middle and High School received $400 for ?Social Skills in the Community.? Students with special needs will gain experience in everyday activities involving social interaction by visiting local restaurants.
Greater Scott County Chamber of Commerce received $370 for Junior Achievement BizCamp. This is a one-week summer camp where students ages 9-12 learn about work readiness, entrepreneurship and financial literacy.
Lexington Good Faith Preschool received $400 for lunch and snacks to serve children in Lexington Township who attend the preschool.
Scott County 4-H received $600 for a lap quilt project. Students at Austin Learning Center will make lap quilts for local nursing home residents.
Scottsburg High School Pep Band received $673 to purchase a bass guitar amplifier to be used at various events, functions and concerts throughout the year.
Scottsburg High School Show Choir received $720 to purchase attire for a new jazz choir.
Scottsburg Kiwanis Club received $630 to expand the Bringing Up Grades program to Austin Elementary. The BUG program provides incentives to third graders to improve their grades.
Special Olympics received $800 to purchase equipment and supplies to restart the program in Scott County.
United Way of Scott County received $500 for the Dolly Parton Imagination Library, which provides free books for children every month from birth through age five.
Vienna-Finley Elementary School received $800 to purchase instruments for their music program.
??The recipients of the grants this year should be very proud of their accomplishments and their dedication to their cause is inspiring,? said Grants Committee Chairperson Braxton Soloe. ?I was very impressed and excited about the record breaking attendance at Mid-America Science Park and it gave me hope for the future of Scott County and for the YGC.?
Scott County Youth Grantmaking Council officers and committee chairpersons were also recognized. Voting members of the YGC include Carmen Boley, Brandon Boswell, Lindsey Boswell, Josiah Croasdell, Braden Hale, Alexa Howser, Evan Howser, Lauren Howser, Kevin Jentzen, Kaleb Mount, Haley Mullins, Jordan Shuler, Braxton Soloe, Emma Waskom, Caleb White and Tyler White of Scottsburg High School; Elle Fleenor, Justice Gabbard, Eliza Mount and Isaak Mount, Scottsburg Middle School; Lauren Turner of Turner Academy Homeschool; and Sera Craig of Providence High School.
Officers are Kevin Jentzen, president; Kaleb Mount, vice president; Lindsey Boswell, secretary; and Brandon Boswell, treasurer. Committee chairpersons include Carmen Boley, asset development; Braxton Soloe, grants; Evan Howser, community service; and Lauren Howser, governance.
In addition, due to the overwhelming response of students who wished to serve on the YGC, the community service committee was expanded a few years ago and membership was opened to anyone who wished to serve. The committee performs monthly service projects throughout the community, such as stocking shelves at the Clearinghouse, bowling for Big Brothers Big Sisters, assembling water purification kits for New Life International and much more. Members on this committee include Miranda Baker, Hannah Brown, Hannah Dickerson, and Izzy Myszak of Scottsburg Middle School; Avery Kendall of Vienna-Finley Elementary School; Andrew Foster and Lyndie Foster, homeschool; Makalynn Brown and Tori Rone of Scottsburg High School.
Graduating seniors were also honored for their service. They include Sera Craig, Lauren Howser and Kevin Jentzen.
Two new awards were given this year. Kevin Jentzen was honored with the Goody Two-Shoes award for volunteering the most hours to the YGC. The Helping Hand Award was given to Ashley Martin for her philanthropic efforts in our community.
For more information on the Scott County Youth Grantmaking Council or to donate to the endowment fund for future grants, please call 752-2057, email info@www.scottcountyfoundation.org or mail to P.O. Box 25, Scottsburg, IN 47170. You may also stop in the office at 60 N. Main St., Scottsburg, or visit the website at www.www.scottcountyfoundation.org or www.facebook.com/ScottCountyYGC.
?