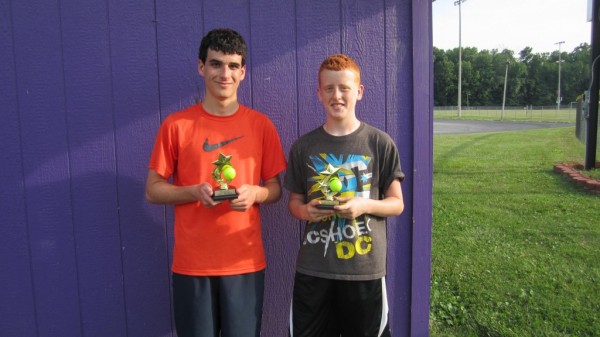 ??????????????? The Scott County Youth Grantmaking Council (YGC) 2013 Tennis Open was another successful event, announced YGC Asset Development committee chairperson Tyler White. The YGC is a program of the Scott County Community Foundation. The fundraiser supports youth in Scott County and was held June 21-22 at Scottsburg High School. The event raised over $760, which goes to support youth in Scott County.
Event winners include: Women?s Singles, Carmen Boley; Men?s Doubles, James Cruz and Justin Cruz; Women?s Doubles, Mary Jones and Stacy Vanover; Boys Junior Singles, Tyler White; Mixed Doubles, Mary Jones and James Cruz; Boys Junior Doubles, Caleb White and Mason Noble.
?Thanks to the people that gave us money for this fundraiser,? said Tyler. ?You are helping us making the youth organizations in Scott County stronger.?
Tyler also shared a quote from an unknown person, ?Blessed are those that can give without remembering and receive without forgetting.?
??????????????? The Scott County Youth Grantmaking Council would like to thank the following: ?t-shirt sponsors: Clara Adkins ? County Council, the Boley family, ILPEA Industries, Mary Jones, Morgan Foods, the Piet-Cruz family, Scott County State Bank, Wal-Mart Distribution Center, and the White family. Donors for the auction include Frasier Arms Museum, Health Centered Chiropractic, Holiday World & Splashin? Safari, the Kentucky Science Center, the Louisville Bats, the Louisville Zoo and Beth Turner.
The Scott County Youth Grantmaking Council is comprised of 30 youth from throughout Scott County, in grades five through 12. Their goals are to provide leadership development, positive peer support, learn about philanthropy and serving the community, form a partnership with other youth and adults, and grow their endowment fund for the future.
Facebook users can view photos on the Scott County Youth Grantmaking Council?s page, www.facebook.com/ScottCountyYGC. For more information on the YGC, call 752-2057, email info@www.scottcountyfoundation.org or visit the website at www.www.scottcountyfoundation.org.