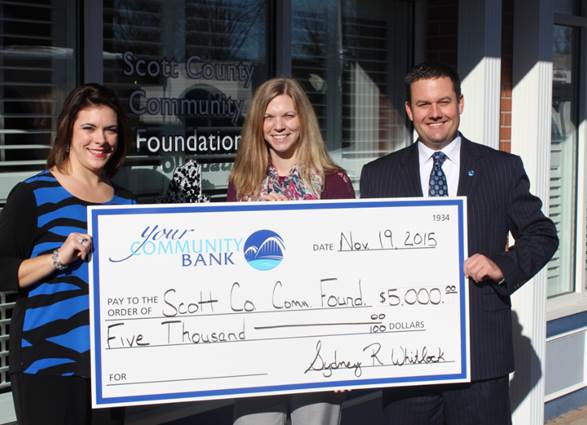 Your Community Bank Regional President Syd Whitlock and Financial Center Manager Amberley Kendall present Scott County Community Foundation Executive Director Jaime Toppe (middle) a check for $5,000 to establish the Your Community Bank Fund. Through a matching grant opportunity from Lilly Endowment, YCB?s gift of $5,000 will be matched with $5,000 for the unrestricted fund, which will support community needs every year.
?We are excited to partner with the Scott County Community Foundation, an organization that has done so much for Scott County,? said Whitlock.? ?At Your Community Bank, we understand the importance of investing in these types of efforts that benefits the community both today and in the future.?
?Your Community Bank has always cared about building relationships in Scott County, and this is another great example of their commitment to Scott County.? This investment increases the quality of life for all of our residents,? said Toppe. ?We appreciate the generosity of the bank and their employees and we look forward to our continued partnership.?
Scott County Community Foundation was awarded $500,000 through the GIFT initiative, which will bring a potential $1.25 million to Scott County upon reaching the goal. The deadline for matching gifts is March 31, 2016. For more information, please call 812-752-2057, email info@www.scottcountyfoundation.org or stop in the office at 60 N. Main St., Scottsburg. You may also visit the website at www.www.scottcountyfoundation.org.